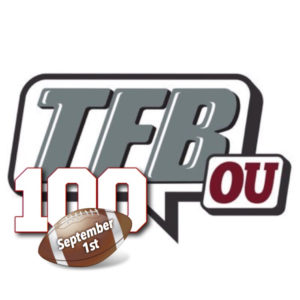 100 Days to Football Time in Oklahoma: #25 Justin Broiles
Posted on: August 7, 2019
The Path to Norman
Justin Broiles was a very highly ranked DB out of Oklahoma in the 2018 class. Broiles' interactions with the staff got kicked up about a year before his signing with an offer.
Blessed to have Received offer #11 from The University of Oklahoma ⭕️🙌🏾 #OUDNA #soonersquad17 #Sooners pic.twitter.com/wPiaww0sNV

— Justin Broiles⏳ (@JustinbroilesJ) February 13, 2016
A short month later, Broiles announced his desire to be a Sooner.
#SoonerSquad17 ⭕️🙌🏾 pic.twitter.com/JlMEPnx2kg

— Justin Broiles⏳ (@JustinbroilesJ) March 7, 2016
He proved to be a huge recruiting force after his commitment. His physicality was an attribute often talked about in high school.
Career so Far
2017 was a redshirt season for the OK Preps defensive back, coupled with some minor injury time.
His 2018 campaign saw Broiles start in five games and play in eleven before an injury ended his season early. He played a bit of safety, nickel, and corner.
Current Profile
Position: Defensive Back
Height: 5'10"
Weight: 189
Year: Redshirt Sophomore
Highlights
Justin Broiles blows up the 3rd down play and forces the field goal. #Sooners pic.twitter.com/lIrfUJSL3D

— Sooner Gridiron (@soonergridiron) September 15, 2018
2019 Season
This could be a critical year for Broiles. With plenty of options at safety, it's a year for him to assert himself on the field and prove himself a starter. James Hales' depth chart from last week has Broiles starting at strong safety, but he and TFB have repeatedly reported how tight the race is at both safety spots. Sooner fans will be rooting for him to have a breakout season in 2019.