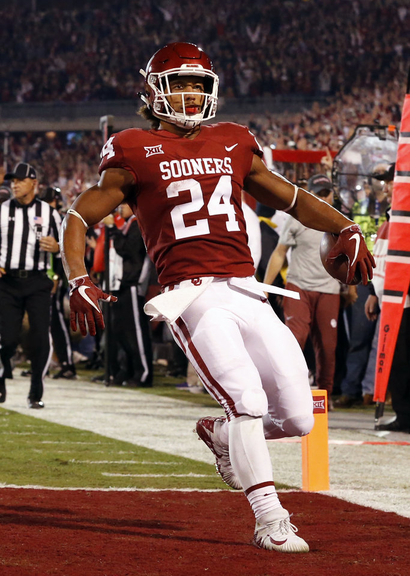 100 Days to Football Time in Oklahoma: #24 Rodney Anderson
Posted on: August 8, 2018
Image via NewsOK.com, stats via SoonerSports.com
The Path to Norman
Rodney Anderson didn't start off as an OU commit; rather, the Katy, Texas product pledged to Texas A&M the summer before his junior year of high school. That commitment continued until the spring of the following year, when he reopened his recruiting. The Sooners' coaching staff was in communication with him throughout the process. Anderson committed to OU the summer before his senior year of high school.
Career So Far
Anderson's first few years at OU were plagued with injuries. He enrolled early as a freshman, benefitting from an extra spring of practice. The first spring on campus (2015), he suffered a sprained MCL. That healed in time for him to be available for summer workouts. Then, Rodney suffered a season-ending leg injury against Tennessee the second game of the season, resulting in a redshirt year.
As 2016 rolled around, OU had two star running backs in Samaje Perine and Joe Mixon. However, Anderson was looking like a promising third option to the tandem. Rave reviews regarding the running back were frequently coming out of practice. Then, right before the season started, Anderson suffered a neck injury that kept him out the entire 2016 season.
Anderson was finally healthy in 2017, and it sure was fun to watch. The season started off slow for him, as he worked to shake off some apparent rust. The Texas game was his first big performance of the season, and it was to be followed by many more. The combination of power, speed, and agility that Anderson possesses is remarkable, and once he got comfortable with it there was little defenses could do to stop him.
Current Profile
Position: Running Back
Height: 6'1"
Weight: 220
Year: Redshirt Junior
Stats

Highlights
RODNEY ANDERSON 😱😱😱😱 #SmittyBuilt pic.twitter.com/SBpWqVgBUq

— Du'Vonta Lampkin LLT🌎 (@DeeChilllin) October 24, 2017
Eligibility Notes
Anderson was able to take a redshirt for the 2015 season. For the 2016 season, his situation is slightly less clear. My understanding of the "medical hardship waiver" is that a player must compete in less than 30% of the season's game and must have had a season-ending injury. Both of those stipulations can emphatically be answered "yes" for Anderson in 2016 (and 2015 to be fair). This waiver is not usually applied until later in an athlete's career. It is rare for players to get 2 extra years (one a redshirt, one a medical waiver). Still (looking at you Jason White), there are examples of it happening when both seasons ended due to completely uncontrollable circumstances. All of that, however, is moot unless Anderson can stay healthy. It is also unlikely that he would stick around for 6 total years even if healthy, as many backs decide to pursue an NFL career before their body takes too much abuse. If Anderson continues to improve in 2018 the way he did in 2017, the NFL will be ready for him.
2018 Season
While he had the option to declare for the NFL Draft, Anderson chose to return and gave the offense a major boost. Lincoln Riley enjoys keeping a defense guessing and featured different backs in different games in 2017. Even with that tendency, Anderson could not be kept off the field the second half of the season. Many around the nation believed he was possibly the best running back in college football the second half of the season. He was the featured back throughout that stretch, and all indications point toward that being the case again in 2018. Rodney has already been included on the pre-season Maxwell Award watch list and ESPN's top 50 players, showing how well respected his play is. Look for Rodney Anderson to be one of the faces of OU football this season.