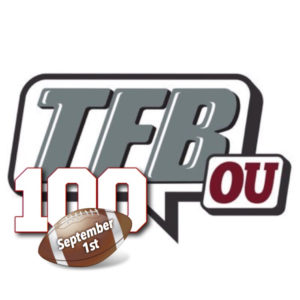 100 Days to Football Time in Oklahoma: #24 Brian Asamoah
Posted on: August 8, 2019
The Path to Norman
Brian Asamoah's offer came the spring of his junior year of high school. His original plan was to commit to a school a month later, but he postponed that commitment. He made plans to attend the ChampUBBQ for quite some time, certainly showing a high level of interest in the Sooners. Brian had nothing but great things to say about the visit, really enjoying his time spent with Coach Kish. At first, it looked like he'd be committing immediately following the visit. OU fans had to wait a little longer than that for a commitment, but Brian once got his parents to Norman for the first game of the season, he committed just a few days later. 
My story continues… 📝 pic.twitter.com/9ZxaPI318c

— Brian Asamoah Ⅱ (@BrianAsamoah2) September 8, 2017
TFB got to know his family a little better shortly after his commitment; Sooner nation can see more about them below.
TFB With the Family spotlights @b_moah211- get to know his family as Brian gets closer to being a #Sooner (via @TFB_Sooners) https://t.co/ANkY9Ff3sZ

— Ryan Lewis (@RyanLewis_TFB) November 15, 2017
Career so Far
Asamoah took a redshirt season in 2018.
Current Profile
Position: Linebacker
Height: 6'1"
Weight: 225
Year: Redshirt Freshman
Highlights
#BoooooMer #SCtop10 @SportsCenter pic.twitter.com/NBLhQf6lZ2

— Brian Asamoah Ⅱ (@BrianAsamoah2) January 20, 2018
2019 Season
TFB has heard high praise of Asamoah's athletic ability. However, several more experienced players will take up the starting inside linebacker spots this fall. While Brian will provide good depth, it will probably be one more year before Sooner fans see the Ohio native playing often. When he does, however, he has the chance to be something special.