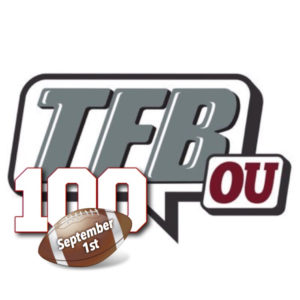 100 Days to Football Time in Oklahoma: #22 Jeremiah Criddell
Posted on: August 10, 2019
The Path to Norman
Jeremiah Criddell, a very highly-ranked defensive back out of California, had offers from about every top program in the country. His first offer, Oregon, won a commitment for about half a year before his signing day. However, he opened his recruitment back up shortly before early signing day, with OU and Oregon seeming to be the two main contenders.
Criddell ended up announcing live on ESPN's coverage of the early signing day. Suffice it to say, the staff was officially pretty happy about it.
#NewWave19 just peaked!#OUDNA #BoomerSooner

🌊 https://t.co/iOWTWNV9sS pic.twitter.com/oYNHP0pyeK

— Oklahoma Football (@OU_Football) December 19, 2018
Current Profile
Position: Defensive Back
Height: 5'11"
Weight: 198
Year: Freshman
Highlights
2019 Season
Criddell has really grabbed the staff's attention this summer and provided a real spark in competition. Despite experience all over the secondary, he has emerged primarily as a contender at the nickel spot, presumably slotted behind Bookie. With his talent, however, don't bet against seeing Jeremiah pop up elsewhere in the secondary. There are plenty of quality players with game experience in the secondary, but 2019 is a clean slate and every spot seems up for grabs. Sooner fans should expect to see Criddell on the field this season already proving why he was so coveted by the staff.