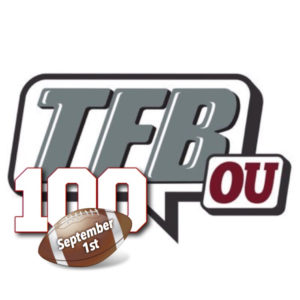 100 Days to Football Time in Oklahoma: #19 Caleb Kelly
Posted on: August 13, 2019
The Path to Norman
Caleb Kelly was offered by Oklahoma almost two years before his signing day. The incredibly talented California linebacker had his pick of schools from all around the nation. As time went on, his relationship with newly returned Coach Chip Viney appeared to be more and more important to the young man. Notre Dame and OU were two of the biggest competitors for his services right up to signing day. On signing day itself via a live stream, Caleb Kelly let it be known that he'd be heading to Norman.
Career so Far
Playing time was slow to come for Kelly his freshman season. Despite playing well in his appearances, he played sparingly at first. Towards the middle of the season, his playing time at the outside linebacker (SAM) spot began to increase and he started in several games.
His sophomore campaign, Caleb played in all 14 games, starting in 13. Kelly was a leader for the defense, although many wished to see him have even more opportunities to shine. The 2017 season earned him an All-Big 12 honorable mention selection.
2018 was an up and down season for Caleb. Although he played in 12 of the 14 games, it seemed that the staff couldn't figure out how best to play him. However, he came on strong in the second half of the season, starting in the final five games and was easily one of the Sooners' best defenders over that stretch.
Current Profile
Position: Linebacker
Height: 6'3"
Weight: 229
Year: Senior
Stats

Highlights
2019 Season
Unfortunately, Kelly will miss this season with a torn ACL. He has still been active with the team as a leader with the coaches. There is a feeling that he may be cleared in time to contribute toward the end of the season. If so, he would be able to take full advantage of the new redshirt rule; Kelly could appear in four games and return in 2020 with 2019 as his redshirt season. Sooner nation wishes Caleb a full recovery and that he can see the field soon.