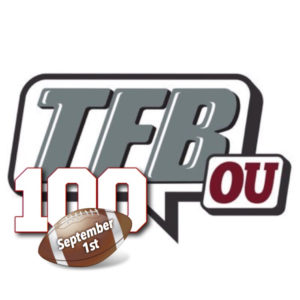 100 Days to Football Time in Oklahoma: #17 Jaquayln Crawford
Posted on: August 15, 2019
The Path to Norman
Getting highly ranked receivers out of Texas seems to be a solid strategy for OU. There are a handful currently on the roster and several already committed in the 2019 class. One such receiver is Jaquayln Crawford. The Sooners had their eye on Crawford for some time, with an offer extended around a year before his signing day. As summer approached, OU fans liked their chances of landing the talented receiver. Crawford's announcement made them even happier.
THANK YOU GOD..

I'm a Sooner , #Committed ⭕️🙌🏾 .. pic.twitter.com/MLxLFzcDRk

— 🥀 (@KingCrawford_) July 17, 2017
Crawford was listed at 5'10" and 160 pounds at the time of his commitment. Many schools don't know how to mesh receivers of all sizes: OU seems to thrive on them. As TFB has mentioned before, the Sooners do a great job of taking the most talented receivers they find and using them all over the field; Ryan Broyles, Sterling Shepard, and Dede Westbrook are living proof of that. The Sooners sold Crawford on being able to play anybody, anywhere at the receiver position.
For more on the star receiver, check out TFB's evaluation of him from last summer: TFB: Crawford Spotlight.
Career so Far
Crawford took a redshirt season in 2018, appearing in only one game (against Kansas).
Current Profile
Position: Receiver
Height: 5'10"
Weight: 175
Year: Redshirt Freshman
Highlights
2019 Season
The receiver spot is perhaps the most talented and most competitive for the Sooners this year. Establish receivers include CeeDee Lamb, Charleston Rambo, Nick Basquine, Calc, and Lee Morris. Then you have young guys without much experience like Crawford and Mykel Jones. Beyond that, you have a group of newcomers including Jadon Hasselwood, Trejan Bridges, Theo Wease, and Austin Stogner. Everyone will be fighting for playing time this year. As one of the fastest guys on the team, Crawford brings something that most players can't. Hopefully, he carves out some reps this season and brings that speed to the field.