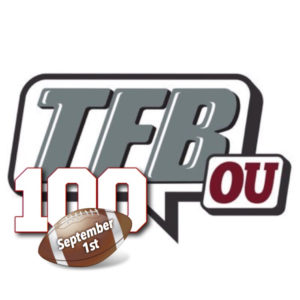 100 Days to Football Time in Oklahoma: #14 Charleston Rambo
Posted on: August 18, 2019
The Path to Norman
Charleston Rambo, a very talented receiver from Texas, was offered by the Sooners almost two whole years before his signing day. Charleston and Coach Dennis Simmons quickly developed a relationship, communicating often. He made several trips to Norman to check out the campus before committing to the Sooners about a year before his signing day.
A rough start to the 2016 season could have scared off some recruits; instead, Rambo and others saw it as an opportunity to come in and make a difference. Despite pushes from various programs for the young man's services, Charleston made it to Norman.
TFB ran a spotlight on him after his commitment further look at his skillset, showing how much his athleticism can help him and his team.
Career so Far
Rambo took a redshirt season in 2017 to get used to the college game.
In 2018, Charleston saw action in 12 of the Sooners' 14 games, even though having Marquise Brown on the same team made playing time tough to come by. He had a particularly strong performance against Alabama in the CFP Semifinal, giving fans plenty of excitement for the 2019 season.
Current Profile
Position: Receiver
Height: 6'1"
Weight: 175
Year: Redshirt Sophomore
Stats

Highlights
2019 Season
The OU receiving group is going to be scary this season. With Grant Calcaterra, CeeDee Lamb, and Rambo expected to the first three receivers on the field, opposing defenses are going to have their work cut out. Rambo is one to watch for a breakout season in 2019 as a big piece of the Sooners' offense.