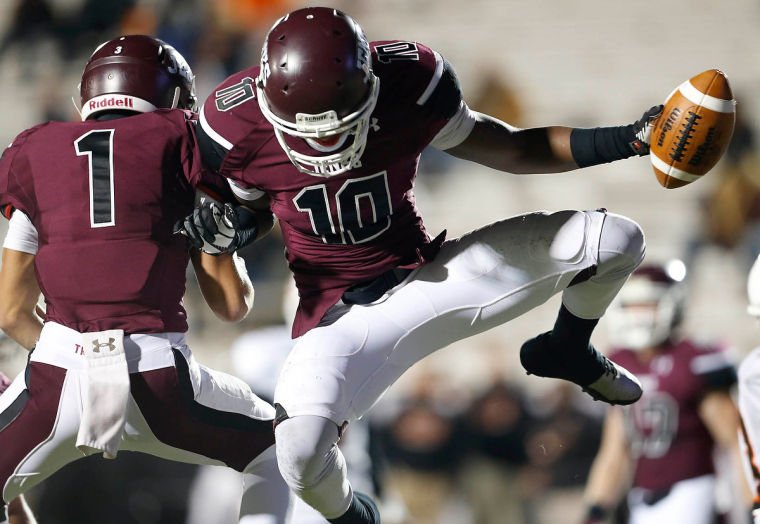 Understanding Steven Parker's Recruitment
Posted on: January 1, 2014
Image from TulsaWorld.com (Photographer: James Gibbard)
Jenks HS star DB, Steven Parker, has had the attention of the entire state of Oklahoma for a while now. He's had the attention of the Oklahoma and Oklahoma State coaches for a while now. But Steven Parker has also had the attention of coaches around the nation for a while now. UCLA, USC, Alabama; you name the school and they're either still recruiting Steven or have recruited Steven at one point or another. And along with all that notoriety has come rumors and stories from fans and media alike; everyone trying to figure out what Steven Parker will do or where Steven Parker will end up. Well after speaking to Steven's father for a while I'll give you my take.
To understand Steven's recruiting process you have to understand his father. The media paints people however they like. Sometimes the image they paint is based on what they really believe. Sometimes it's based on what they think will sell. Fortunately for us we aren't selling anything so I'll tell you what I believe. Steven Parker's father is a man who wants to ensure that his son makes a decision based on all the information and he wants to make sure that that information is accurate. He knows that coaches say what they have to in order to secure a player's commitment. After all Steven's father isn't new to this game. He was an athlete himself. But as a father his priority is to do what he can to protect and to help his son. And if you think Steven's father is trying to figure out the most efficient way to get his son to the NFL you would be dead wrong. He is trying to make sure his son, first and foremost, gets a good education. A lot of people say that to me but I've never heard it come from someone and it sound so genuine and sincere. In fact it was a primary point of emphasis in our conversation and it plays such a central role in the families decision that they are willing to walk away from any school that doesn't afford Steven the best opportunity to reach his educational goals.
I asked Mr. Parker whether the recruiting process has gotten old and he responded by saying that he feels fortunate that his son is in the position to be recruited but he said that the process "got old a long time ago". Some might ask, "then why not just get over with?" But the point for the Parker family isn't to just "get it over with". Again, it's to help Steven make the best decision possible. And if that takes till signing day then it takes till signing day. If it happens before that then so be it. At the end of the day, as Mr. Parker told me, "it's Steven's decision but I act as a filter and help him see things for what they are so that he has the correct information to make that decision". He adds, "I don't want my son to get strong armed." And Steven's father wants to prevent that possibility so much that any coaches who attempt to rush his son's decision or exert pressure for a commitment have been told "you are welcome in my home but as far as I'm concerned Steven won't be attending your school". Some might say that is harsh but to me that is a father making certain that his son is given the freedom to make a choice without coercion.
The good news for Oklahoma fan's is that OU coaches haven't tried to coerce or rush a decision from Steven. But don't misunderstand. Our coaches have not been complacent. In fact Steven's father said in no uncertain terms that of all the programs that have recruited Steven, Coach Bob Stoops was the only head coach to be involved in Steven Parker's recruitment from day one. I know that goes against all the "Bob Stoops doesn't work hard enough on the recruiting trail" comments out there but these aren't my words. These are the words of a the father of a big time recruit. Mr. Parker said that Coach Bob and Coach Mike Stoops have done a great job recruiting Steven throughout the process. In fact Steven's father said, "I have all the respect in the world for Bob and Mike. No one has recruited Steven better."
So having said all that, where does OU stand with Steven Parker? Well I think Oklahoma fan's have reason to be optimistic. According to Steven's father Oklahoma is currently the leader. Ole Miss, Arkansas, Texas A&M and other schools are still actively recruiting Steven and he hasn't ruled out more visits this month. But Oklahoma has done a great job recruiting Steven. In fact it would seem our coaches have done everything they can. Steven is exactly the kind of player Coach Mike wants. He's a big, fast, physical kid with enough fluidity and flexibility to turn and cover – a very rare quality in a DB that size. And if you can't play man coverage then you can't play any position in our secondary and Steven certainly can. Our coaches have clearly made Parker a priority and it's easy to see why. While it's not over yet I'm hopeful that the OU staff's hard work will pay off. But for now, like the rest of you, we will have to patiently wait and see.