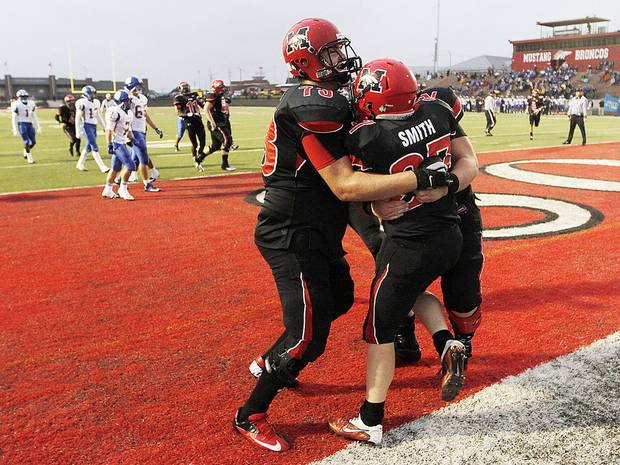 UNDERRATED: Tristan Hill is BCS Good
Posted on: December 18, 2013
Image from Newsok.com (Photographer: Garett Fisbeck)
You hear the terms like "diamond in the rough" and "hidden gem" thrown around a lot.  Most of the time, those terms get used far to liberally.  K gave me a call last night and asked me if I'd heard about an offensive tackle named Tristan Hill from Mustang, Oklahoma.  I told him that I hadn't, so K said let me flip you the film on this guy and let me know what you think. Apparently one of our readers wrote in and suggested we take a look at the young man. And I'm glad we did!
I must admit after working 13 hours today, I wasn't all that enthusiastic…until I opened the tape.  I know that a good indicator on how excited I am about a guy is when the guy makes me talk to myself.  I'll open the film, and I'll start goin…"ooh", "oh wow", etc., that's how I really know a kid can play.  Watching Tristan, I talked to myself…a lot. We had a chance to speak to his coach earlier today and Tristan stands around 6'5 and 3/4 inches and weighs 287 lbs. In other words plenty of length and size with plenty of room to fill out.  But OL gotta be smart. And Tristan is! High 20s on his ACT (don't feel right divulging his score but again he's in the high 20s which is good!) and he's got a great GPA. Coach Dombek at Mustang told us Tristan is a hard worker in the gym, on the field and in the classroom. He's going to need to put on weight when he gets to the next level but with his worth ethic and frame that isn't going to be a problem.
The more I've found out about the kid the more I've liked about him.  It's kind of a nice coincidence that I watched so much film on OU offer, Denzel Ward yesterday.  Because when I lay them side by side, I like Tristan better. I'll say it again – on film I like Tristan better than Denzel Ward! The only thing that Denzel has on Tristan is his size.  Denzel's a couple inches taller, but I tell you Tristan has far better footwork.
In his kick slide Tristan has the ability to speed up his feet to catch up, and I never caught him lunging at anyone.  He's naturally athletic in getting up to linebackers, and redirects effortlessly.  When d-ends try to come back with spin moves or a rip etc., he slides right there to shut them down, and he does it so naturally.  The knocks about him are pad level and using his hands.  The good thing is that you can teach both of those.  He's always in position to make the blocks, and athletically he can compete right now.  He's not strong enough to make all the blocks, but he'll be in position to and just needs a RS freshman year to gain the weight and strength he needs.  With young o linemen you have to teach them how to get in position to make the blocks, step with this foot, etc., but Tristan just does it.
In my opinion we need to offer this guy today.  He's a definite BCS level offensive tackle.  Crazy athleticism, nasty and finishes.  He could decapitate people with better pad level, and once taught how to use his hands correctly, we could have a guy who comes out of nowhere like Teddy Lehman did at the lb position.  Unless I'm completely wrong, he has Lane Johnson type athleticism, Gabe Ikard type athleticism.  Good news is that if we got him in here and redshirted him, Coach Bedenbaugh will have a great set of raw materials to work with and turn him into a really outstanding offensive tackle for us.  Get your butt down I-40 now and go lock him up!
OFFERS: Currently Tristan holds a number of DII offers but no D1 offers. We here at The Football Brainiacs believe he is absolutely a BCS level player.