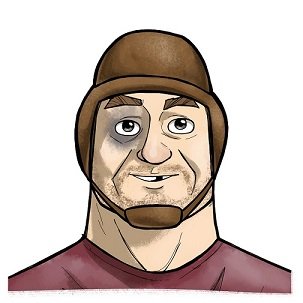 Trench Warfare | OU vs. OSU (4th Quarter)
Posted on: December 27, 2013
Sorry this has taken so long. Now that it's out of the way we will start digging into the Alabama stuff but looking at this game definitely offers some insight.
1. In my best Marv Albert voice…"Daytawion Lowe with the flagrant foul…"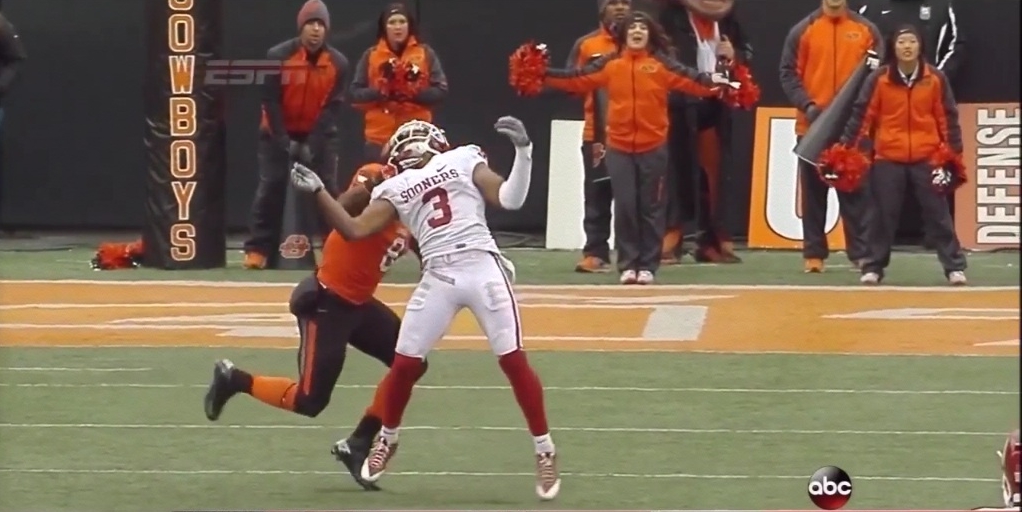 1. (cont.) I wanted to take a couple of frames and illustrate what a good combo block looks like.  On the outside, you have the play starting off with a double team on the five technique between Rip and Farniok…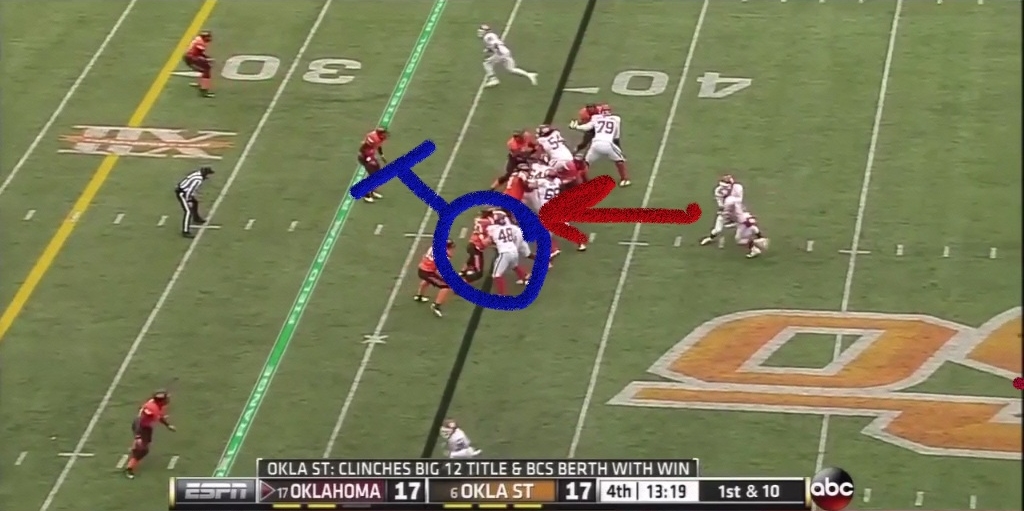 1. (cont.) Once Derek "feels" that Rip is taking the block over, he releases.  In an option blocking scheme, you are responsible for a gap.  Derek's responsibility is the B gap.  Had that 5 crossed his face down into the B gap, then he would have washed him down.  Since he stayed out, Derek's responsibility has not changed.  It's still the B gap.  That linebacker coming into the B gap is now Farniok's guy.  Look at Derek's head turned looking down inside while coming straight off the ball.  Derek did a great job of holding the point outside here, and looking down inside.  In years past you've heard me talk about how it's all about the eyes.  You can't hit what you can't see etc.  Derek did a solid job stepping with his left foot to keep himself outside and create that inside running lane for Brennan.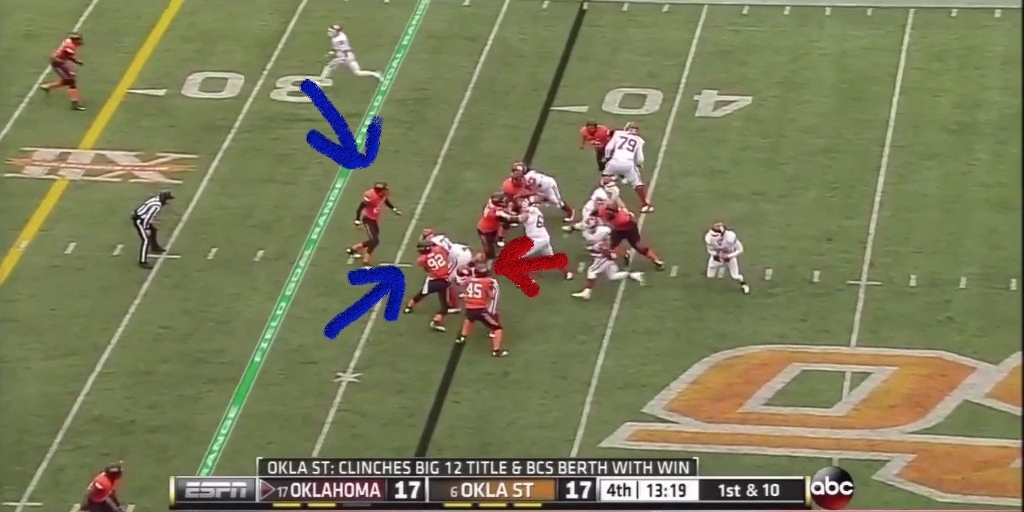 1. (cont.) Just a split second later, he's disengaged that d-end, and shot down onto that linebacker in the previous picture.  He's in great position, as you can see his big #72 on a 45 degree angle to the line of scrimmage.  Since he stepped straight off the ball, it created that lane, and helped Rip keep that guy outside.
1. (cont.) As the play's coming to an end, Derek's completely moved his guy out of the hole.  This was one of Derek's better plays in the game.  People were chirping about how we ran away from his side late in the game, but here we are in the 4th quarter going right behind him for a nice gain of 5.
*Side Note:  This veer/zone read game for a tackle is something that Derek will have to learn through rep after rep after rep.  As he learns to recognize fronts, he will become more crisp in how he reads who he blocks as it's a one, two, three read that happens as fast as you can say it.  In the open set, with a 5 outside of you, come straight off the ball to create the gap.  Eyes inside to make sure the Mike isn't shooting the gap.  If the 5 crosses your face, take em. If the Mike goes backside, let em go and go onto the will.  If the Mike stays home, it's earhole time.  Bring the wood and make em pay. That's something that can only be done through repetition and at game speed.
2. There's no way that the official standing by the yard marker is able to determine that the ball is short.  2nd bad spot of the day
3. On the ensuing 4th and 1, it's a nice job recognizing 5 defenders left and 4 defenders right, with cover zero outside.  We end up going right and getting the first down with Brennan on a nice run.
4. The player with the green dot on his face has outside contain.  Tell me the bootleg wouldn't be something we want to look at in the future off of this.  Bell would be doin the Deion dance in to the end zone.  Still a very nice play to get the sticks moved.
5. Going back to Derek using his hands, and getting them ready….As he gets into his pass set, his arms are flailing. He has to keep them inside, cocked and ready to unload.
5. (cont.) This move here was all this cat had on him, and had Derek been ready to unload on him, even though he's outquicked, he's knocking the wind out of him and driving him into the ground.
5. (cont.) Bell's strong enough to get the pass off, and we live to fight another day.
6. So much of football is about matchups, or getting one player isolated on another.  We come back to the well one more time choosing that off-tackle play that O-State had no answer for.  If I'm coach Heup, I'm coming back to it on 3rd down, 'cause they couldn't stop it all day.  As for the isolation, Daryl's done a great job sealing his man down inside, and Clay's one on one with the player I notated.  Clay hits his soft shoulder, and gets a gain of five.  We ended up getting stopped on third down and kicking the field goal, but being aggressive with that off-tackle play, I'd have come back to it until they did stop it, and then ran a bootleg off of it.
7. Rip busts on this play.  The linebacker standing straight ahead of him has not crossed his face, so he cannot go outside.  He has to get down on the Mike backer.  Due to Nila's missed block earlier and this one, we made Lavey look like an all-American.
7. (cont.) I'm showing gap responsibilities with the blue arrows, and you can see the mistake that Rip's made by going outside.  He just leaves Clay hangin.  Brennan would have had a decent path to run through to get us off of the goal line had we blocked it correctly.
7. (cont.) The blue x shows where the other backers would have most likely contacted Brennan.  Brennan does a good job averting disaster and hanging onto the ball.
8. There are some days that the football gods are on your side.  For whatever reason, O-state's playing coverage.  If they're blitzing this is a disaster, but bell does his best Cal Ripken, and scoops it up like it ain't nothin'.
8. (cont.) Do we have a better improvisational sandlot style qb than Bell?  When stuff breaks down, he just goes with it.  It probably explains how he's been able to deal with the playing time, atmosphere at ND etc.  Right after the drop, he just throws a dart out to Sterling.
8. (cont.) It's a busted coverage, and Sterling's right around that guy and off to the races.  If I'm ever a coach, I'd teach guys to peel back and get the trail players who always end up making the play on long runs.  Sterling could outrun everyone else or cut back off of them…
8. (cont.) But since Lowe was in full gallop, he's able to catch Sterling who had to take a more circuitous route getting around that first guy he made miss.  Look at the hustle from Saunders, Brannon and look at how hard Colt is running to go help out.  Coach Norvell's right with em on the sideline.
9. This is one of those plays that makes the OL look bad, but it's Sterling's missed block that causes it.  Don't know if he's winded here after the big run, or what, but this is just poor technique by Shep.  See him on the bottom right in front of Derek, whose path I've illustrated.  Shep has to face that guy up and drive him down inside.
9. (cont.) He doesn't, and he's watching Clay get hit, as Derek peels off and tries to help.  Had Shep locked that guy up, then Derek's sealing the linebacker inside, and Clay's out on the edge for a big play.  Young players have to learn to be focused play after play.