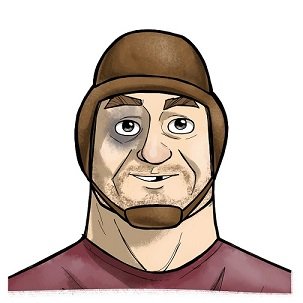 Trench Warfare | OU vs. OSU (3rd Quarter)
Posted on: December 21, 2013
First off.  Sorry it's taken me so long to get this second half up and running.  Working in the transportation business right before Christmas isn't the most user friendly time of year if you're trying to find a couple of hours to put these together.  Couple that with family obligations, and let's just say it's been a little crazy.
1. Anyway, the first play of the second half, Kendall Thompson's in for the injured Trevor Knight.  We go downtown to Bester and get it picked.  In this picture, Colt is circled in blue.  Saunders is the probably your best option here as he has the most separation(right red circle).  We could have probably checked down to Shep as well. Not sure I understand the play call though, first meaningful snap in a big game for Thompson, and we call a pass?  Sometimes we seem like we outsmart ourselves. I realize they'd never suspect us to throw coming out with a backup, but who cares.  Run the dang ball!  Kendal's the most dynamic runner at the qb position we have…
2. The refs in this game had a tough day.  Bad calls for both teams, and it seemed like all day we couldn't get a decent spot.  They even reviewed this play and upheld it.  Now I've never been to referee school, but come on!  This is just ridiculous.
3. I like how they put their lone championship on the far right of the big wall like they expect they're going to get more….how cute.