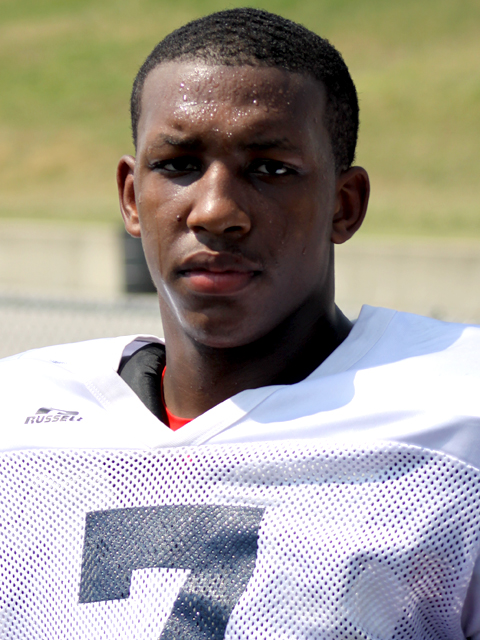 Tay Evans Notes
Posted on: December 22, 2013
Image from 247sports.com
Allen's performance yesterday in the state championship may have proved that they are not only the best team in the state of Texas but perhaps even the best team in the entire country. They completely dominated Pearland winning the 5a Div. 1 state championship with a score of 63-28.
Given the number of possessions Pearland had the Allen defense was incredibly impressive. In fact Allen had a 48 sec scoring drive which, needless to say, is a fast turn around. Despite that, Allen gave up less than 250 yards. As expected one of the standout players on the defense was Oklahoma commit Tay Evans. Here is a recent tweet by ESPN's Damon Sayles about Tay Evans: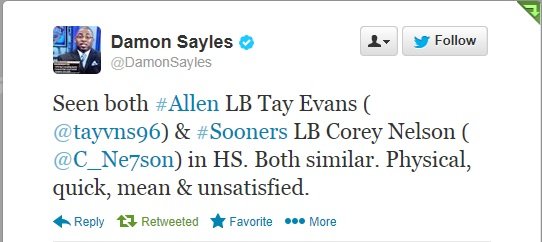 Damon's assessment doesn't surprise me at all. It takes a special athlete to play the hybrid positions that Oklahoma looks for on defense. Given the variety of offenses that Oklahoma faces the LB core has to have a diverse set of skills. Tay plays OLB/DE but he also plays strong safety when he's required to man up the slot player. His ability to play those positions effectively demonstrates a ridiculous amount of diversity in his skill-set. It really does take a unique player to conquer all these tasks.
The first thing that stands out about Tay are his feet. He was one of OU's first offers at the position and Kish wants guys that can move. Tay diagnoses well and gets himself to the point of attack quickly. When he plays stand up DE he is able to diagnose the play so quickly that he can set the edge immediately, turning the hips of the OT toward the sideline and then use leverage to not allow the ball carrier outside of him. As a pass rusher, one-on-one against the tackle he's just too long especially when you couple it with his explosive first step. At 6'3″ with a long wing span he establishes space between the tackle with ease and knows how to finish. He had a beautiful ISO with the tackle in the state championship game that ended with a sack.
In coverage Tay was asked to played the slot receiver. We all know how imperative it is to be able to cover slot receivers in the Big 12. Tay is quick with his hands. He looks like a boxer when taking speed off of the receiver. He looks comfortable playing zone in the slot and he has pretty decent ball skills.
Even though Tay excels at all of these positions I believe OU will actually slide him over to the inside linebacker position. Oklahoma has to get more size on the inside but they can't sacrifice athleticism. That's exactly what Tay gives you. He's got a long frame that can hold weight and he obviously has great athleticism. You can feel comfortable with him on the blitz, in coverage and holding up against the run. Guys like Frank Shannon are safeties that we're spun down to ILB (in the 3-4). Tay is a DE/OLB moving to ILB so he's obviously more accustomed to winning the point of attack and playing up front where it can get very messy.
I think a redshirt will help Tay. It will give him the time to gain weight and strength. But dont misinterpret me. I absolutely believe Tay can be special. I think a redshirt just allows him to gain the right weight and develop at the right pace. Tay has been coached well and plays with excellent technique. I look forward to seeing his growth and watching his brother Bobby play left tackle in the future.