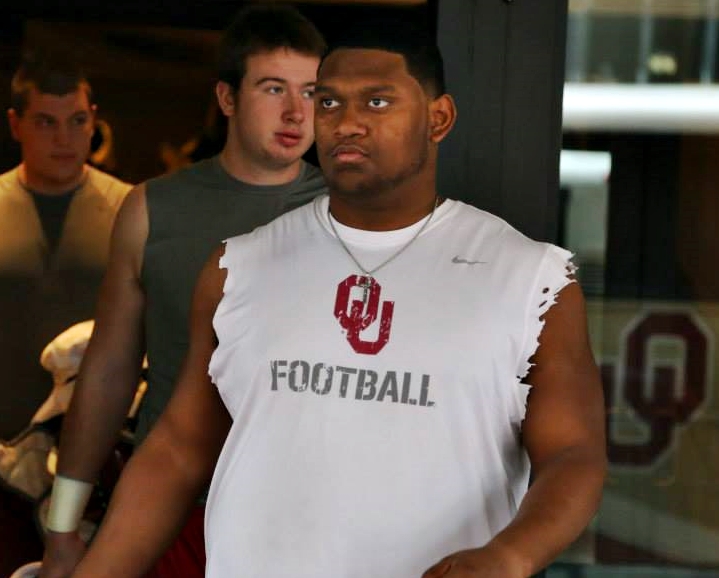 Sugar Bowl Thoughts #3 – Using our Speed
Posted on: December 29, 2013
I was chatting with a friend of mine last night who is a defensive coordinator that wishes to remain unnamed. I asked him how he'd attack Alabama's run game assuming they show us a lot of balanced two TE ace sets.
He said that with Oklahoma's smaller faster front he'd try to move them a lot. Obviously there are different ways to do this but we talked about one. As most of you probably know by now Oklahoma's front alignment is a 4i DE, 0 NG, and a 4i DE. That simple means that our DEs are aligned on the inside shoulder of their respective offensive tackle. They are generally responsible for the B gap – the gap between the guard and the tackle. The NG is aligned "head up" on the center and he's responsible for both the back-side and play-side A gaps, the gaps between the guards and the center.
Alabama is a zone running team. My DC buddy suggested Oklahoma try to take advantage of the speed of our front and try to cover up some of our weaknesses by slanting and attempting to trap the zone. Obviously you don't necessarily know which way Alabama is going to go but for the most part Alabama is going to run away from the numbers so the first thing Oklahoma might want to do is shift their LB/safety alignment and then shift again in order to force Alabama to keep checking. Its similar to what JY said about disguising the coverage pre-snap. Alabama loves to take what you give them so you've got to try to disguise what you're giving them.
For most of the year Oklahoma hasn't done a lot in terms of movement up front so I don't reckon they necessarily will but I thought it'd be fun to look at a possible slant Oklahoma might use to accentuate our positives. If you've got friends who are coaches, especially at the higher levels, you know they're always drawing up plays – on napkins, scratch paper, anything. My buddy does the same. He sent me this text last night and I'll try to explain what it all means: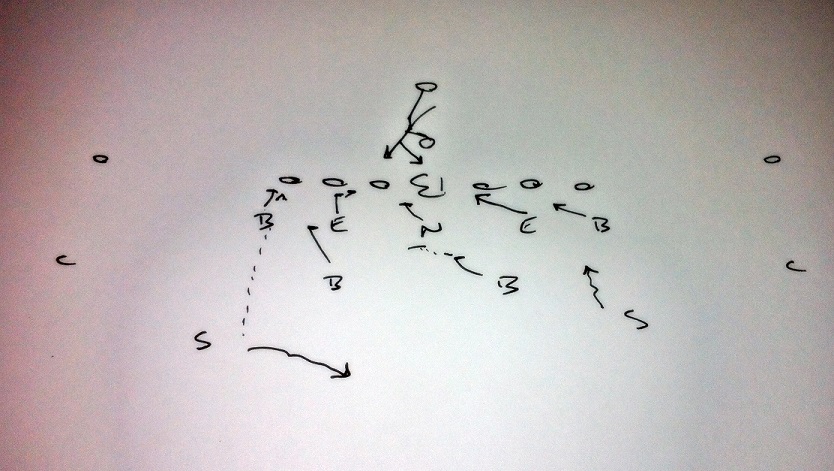 As you can see we were having this discussion assuming that Alabama would be in double tight end (one back) sets (balanced). I'm sure y'all are already know, but for anyone who doesn't, B = linebacker, S = safety, N = noseguard, and E = end (sorry if I over-explain anything here – not trying to insult anyone's intelligence or understanding but I know we've got readers with different levels of experience with football).
As you can see we've got the play drawn up as a zone run to the offenses right which we will call the play side. There are two arrows at the hand-off/mesh point. The arrow going to Bama's right indicates the actual design of the play – that's where Yeldon is supposed to look to run. If he doesn't find any space there he can cut it back and follow the path of the arrow pointing backside (to the offenses left). Normally the way we'd play this with our front is Jordan would try to hold his position against the double team and keep the OLineman from getting up to the 2nd level and the two DEs would crash the B gaps (gap between the guard and center). But what my buddy is suggesting is that instead of trying to do that and mostly likely having Jordan get washed down and taken out of the play and then letting their OL get up to the LBs easily, we instead stick the backside (our right) DEnd. What I mean is we are going to slant towards the playside and try to use our speed to blow the play up. So we'll ask that backside DEnd (the E on our right) to come across the guards face and get into the A gap (the gap between the center and the guard). Normally he'd be doing the same thing as the other DEnd, crashing the B gap in front of him.
But by coming across that guards face into the A gap he allows us to cover up whatever weakness we have at NG and at our weakside ILB position. Why? Because Jordan can just slant/crash the A gap and use his quickness. And at the same time that weakside ILB (that's the B on our right – not the furthest B but the one next to him) will then be covered up, in other words the guard doesn't have a free shot at him. There are different things you could do with that covered LB. Technically he'll be responsible for that B gap (on the backside) for the cut back so you could just hold him there but if there. But if there is a cut back you've got a couple players over there so you could actually run blitz him as well. Basically he's a bit of a free roaming head hunter.
Obviously the concern is whether or not the distance that backside DE has to cover is too much. And it might be. But if he was quick enough to get across that guards face enough times and not get cut off then we've got a lot of help in the run game and the play side safety (on our left) would also be a free roaming head hunter against the run or deep help against the pass.
Normally we play Tapper to the boundary – he's going to deal with the double teams. But just having fun with it in my head I wonder if it would be better to move Tap over and let him make that stick and hope that Chuka or Geneo could handle the double team on the boundary side (Bama's right) block. This is where having a bigger quick DT type player – like a Torrea Peterson or Charles Walker would really come in handy.
I know it feels like we're going to get run over – and maybe we will – but we held up amazingly well against KSU, a decent running team. If we can find ways to outnumber them on early downs and avoid those 1st down deep shots we can force them into down and distances they don't like. A lot of this is going to come down to the will to win. Auburn doesn't have an all-world defensive front but they played hard and fast the whole game. Alabama will certainly have size on us and they can tighten their splits and make it feel like a steam roller coming at you. But the fact is, it's not a steam roller. It's individual human beings having to block other human beings in space. Eric Striker, for example, may be small and if Bama locks on to him he's probably not going to be able to do too much. But getting your hands on him is a task. Oklahoma is outmatched in the trenches but as my old boxing coach used to say, a bowling ball will break your ribs but a bullet will go right through you. We've been a scrappy bunch all year and we've got to use our speed and play hard. If we can do that we might be able to hold up on the defensive side.
UPDATE (9:17 am) – I just saw this tweet and it related to my post above so I figured I'd update:
Mike Stoops: "We're going to have to do some things to create things with our speed." #Sooners

— Eric Bailey (@EricBaileyTW) December 29, 2013