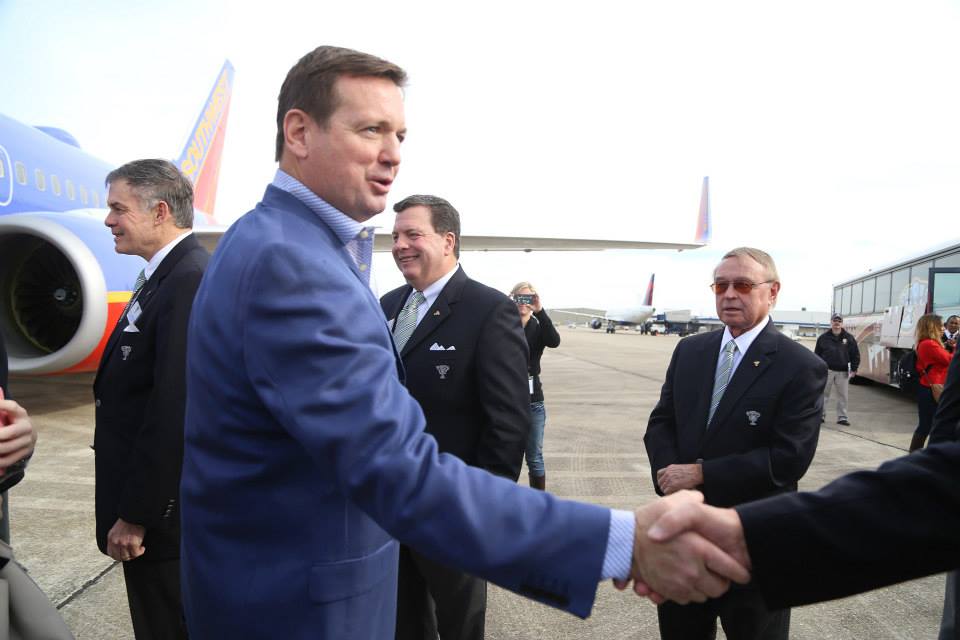 Sugar Bowl Thoughts #2
Posted on: December 28, 2013
Image from Soonersports.com
As I mentioned in my initial thoughts, Alabama makes a living putting their guys in the absolute best position.  It's not that they're so much more physical than everyone else, it's that they're so much smarter than everyone else.  Here out of a basic double tight formation, they gig a&m by alignment.  The aggies go a-5-9 to the right, but there is no backside 3, only a 5.  There should be a 3 backside as well as a 5, but since a&m lined up wrong, this is like taking candy from a baby.  Look at the lane I've outlined in blue.  That's a heckuva wide gap already…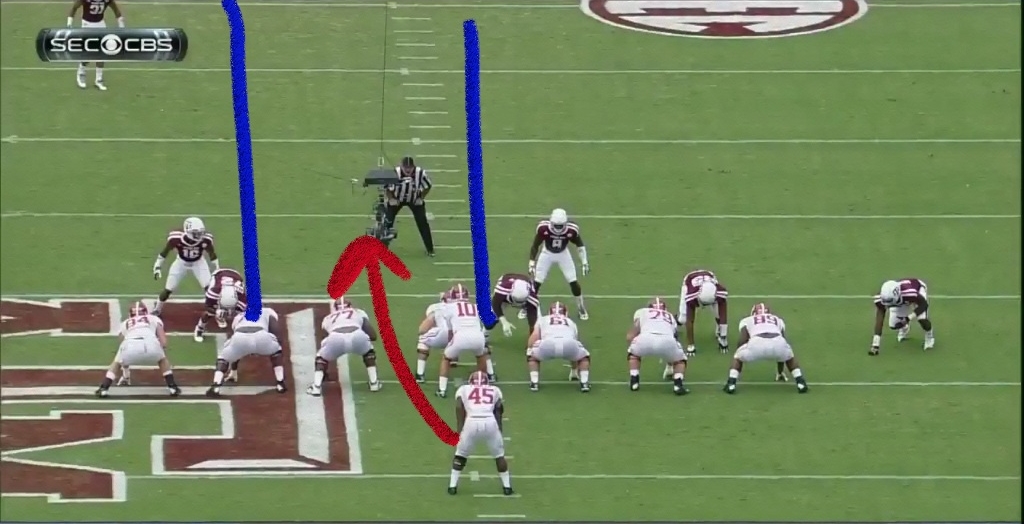 …it's just a split second after the snap, and the lane is still there since it's there by alignment.  Bama runs to numbers advantages, and they do it often. There are four players to the right, versus only two back to the left with a third barely entering the shot to the far left…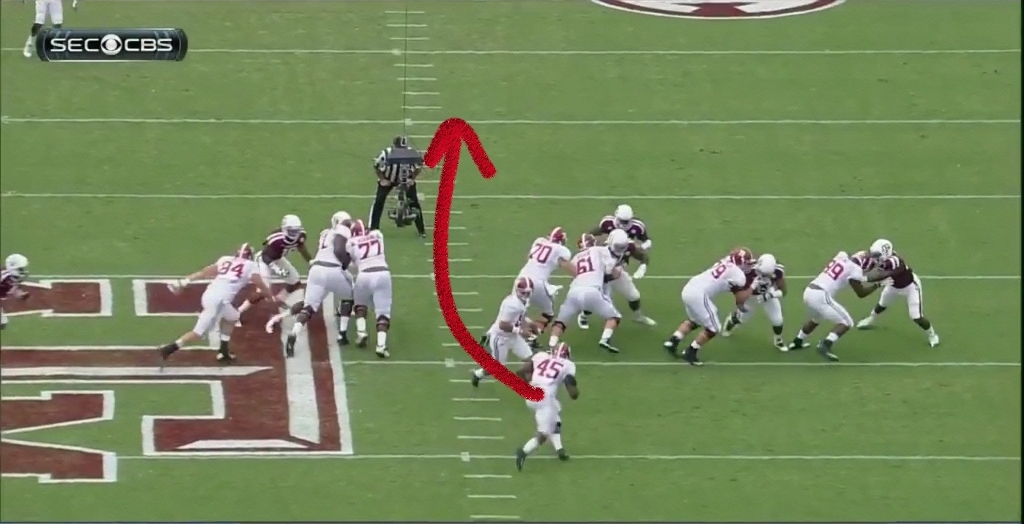 The center still hasn't contacted anyone, and all we hear is Oh My God!  look at how physical Bama is.  While they're very physical, all they had to do was wall those defenders off, since the defense created the hole for them BY ALIGNMENT.  THEY WERE JUST SMART ENOUGH TO SEE IT, AND EXPLOIT IT.  Something I wish we would do.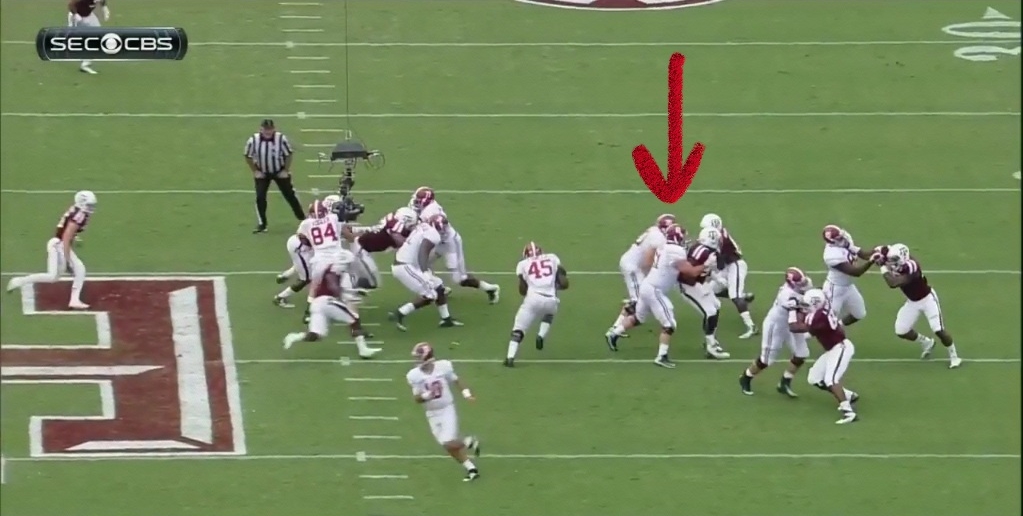 Now in the pass game, think back to the Texas Tech game.  Remember how I talked about how big sets open up things for your playmakers outside? The aggies commit 9 guys in the box with a seven man front and two linebackers.  It's cover zero outside to the left, and Bama being so well coached sees it immediately.  There is no safety help up top and sometimes I really wonder what defensive coordinators are thinking or teaching.  Even with the two linebackers inside, where the heck are they lining up?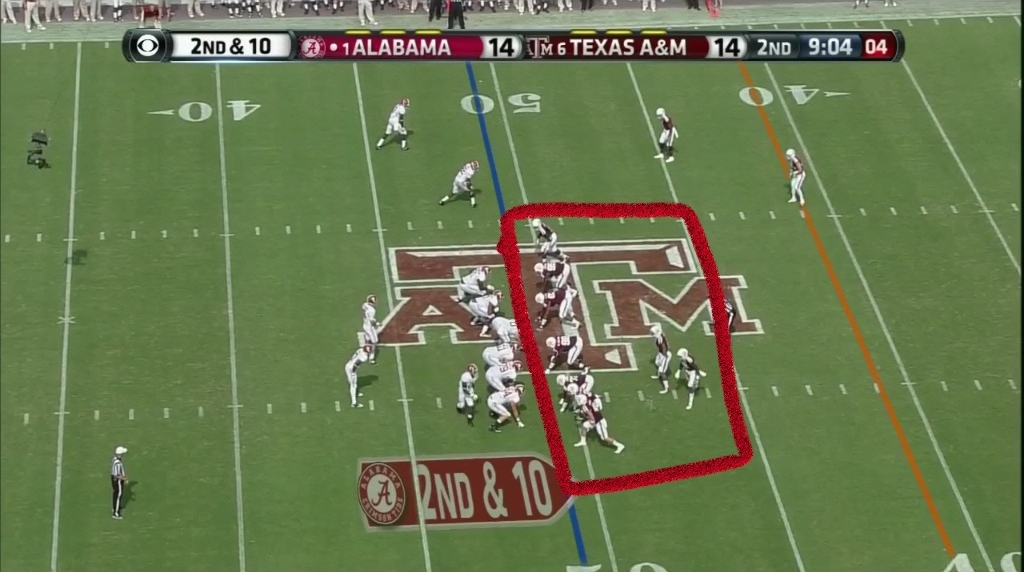 So being the smartest guys in the room, instead of being caught up in "we're bama" and "we're going to run over anyone all the time", they choose not to even mess with the nine guys in the box.  It's an easy call raising up and throwing over to that cover zero look.  A&M couldn't have made it easier since both of the corners are playing off.  By being afraid of giving up the big play and playing off, they make Christian Jones' block(blue) extremely easy.  They're so afraid of getting beat deep that they create the room to operate themselves.  The only way to stop a bubble game is to suffocate it or basically pop the bubble for lack of a better term.  See bama counts on people to be so afraid of their run game that it opens up things on the outside and downfield.  Imagine what Jalen or Sterling could do with this much room outside.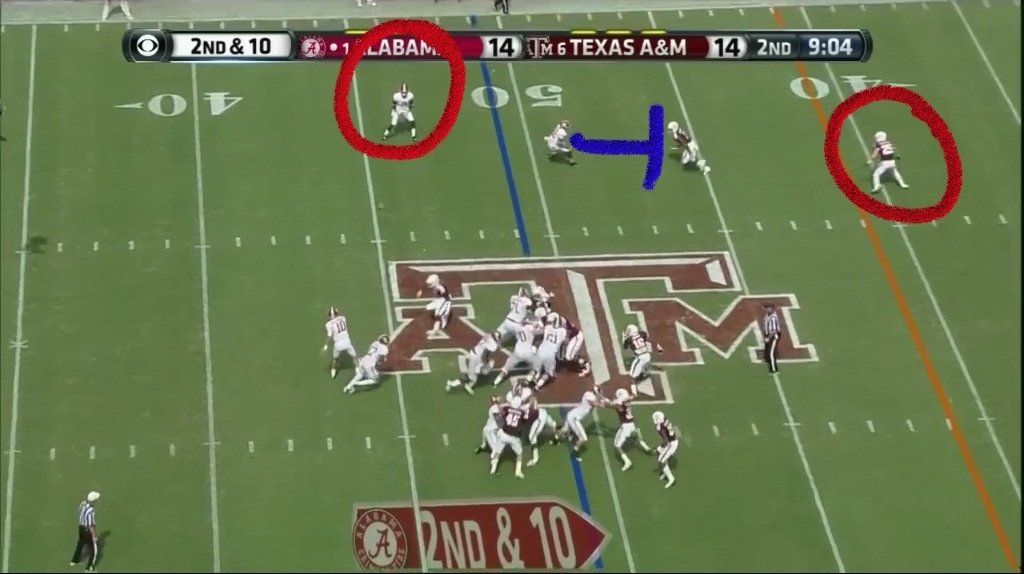 Now look at how quickly it has become an isolation one on one game for the Bama offense.  10 guys were eliminated from the possibility of stopping the tide's offense in a split second.  There are only two a&m defenders outside of the hash, and one of them is blocked.  The safety(blue arrow), has no chance.  If he commits to far outside, the receiver just cuts back off of him and it's game over.  If he dips inside on him and forces the defender to yield the sideline it's game over.  While bama has the best athletes, they also have the best coaches.  They really understand how to get people isolated and really stress a defense through simplicity and alignment.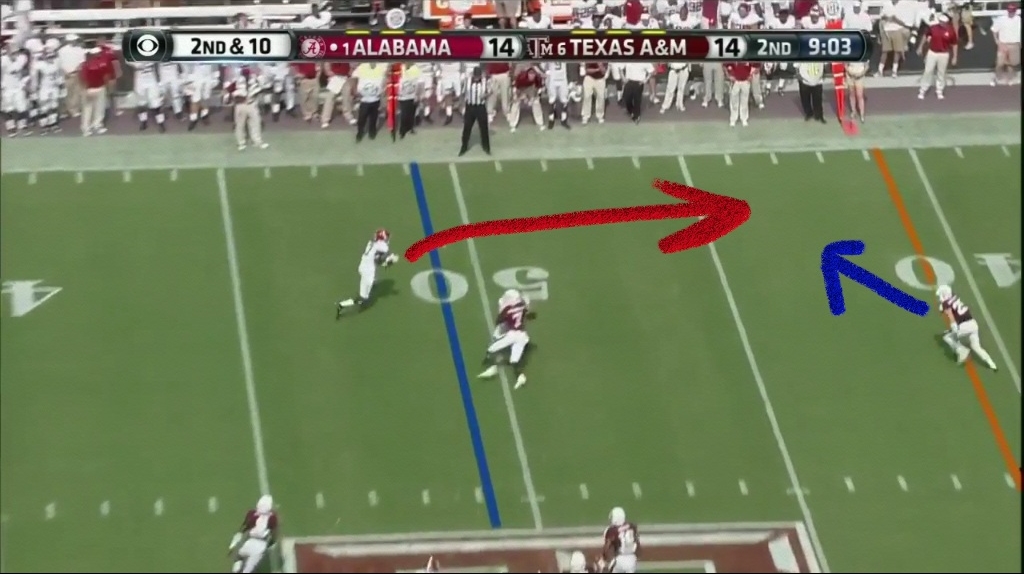 The only guy who could have made the play didn't, and it's sportscenter time for Kenny Bell.  While Lundquist and Danielson are busy oohing and aahing over how fast Bell is, and he's plenty fast, I'm just in awe about how Bama completely dictated to the defense how the defense was going to play them.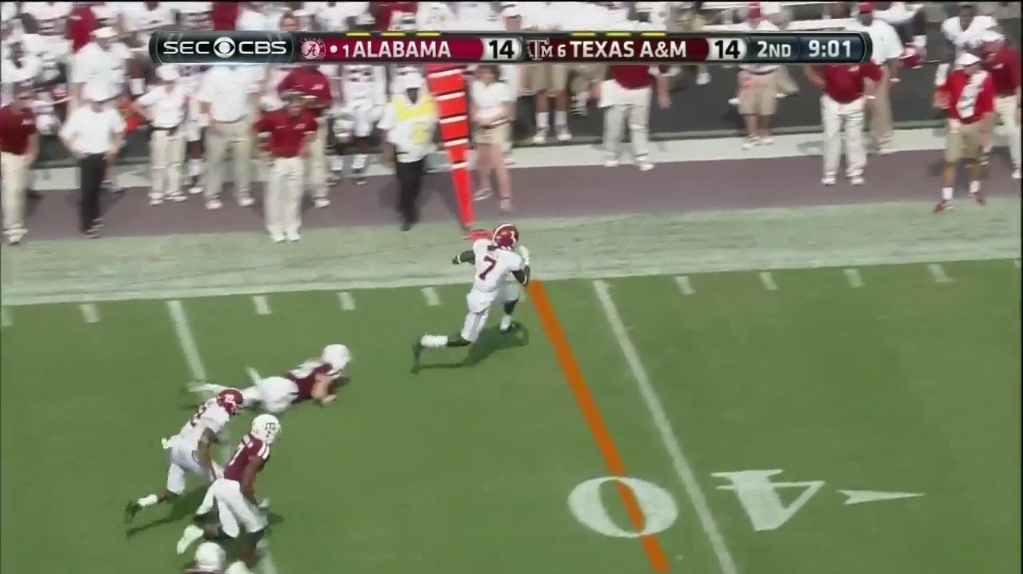 You want to load nine guys into the box on us?  That's fine, we'll go outside.  You want to play coverage on us with five db's and only commit six to stop the run?  O.K., we'll run it down your throat until you can't take it anymore as a defensive staff.  The second you get tired of it and commit those safeties up into the box to stop that ground game, this is what's going to happen to you.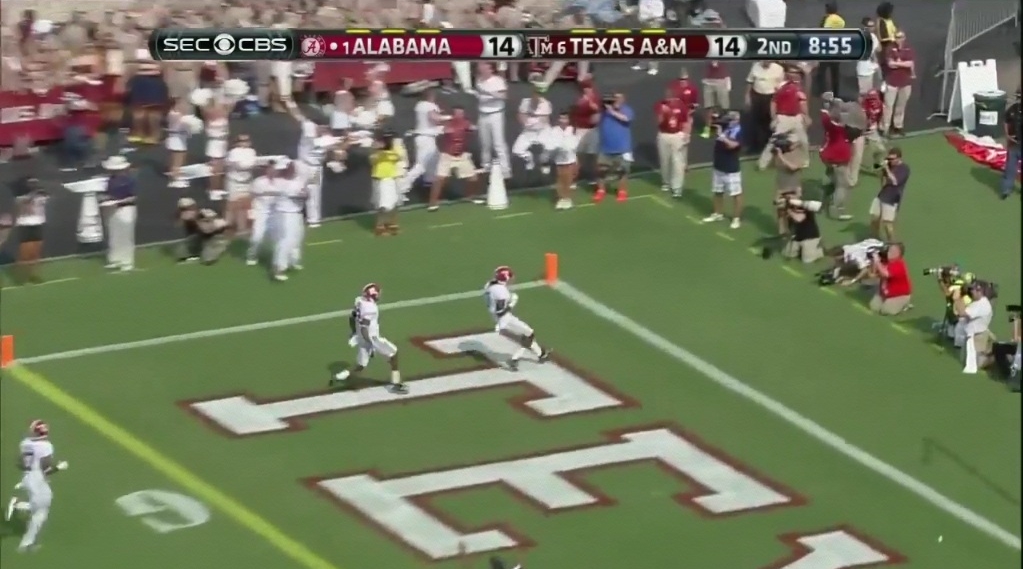 To beat this Bama team, you have to be able to defend them with man coverage and a single high safety.  Mix up your coverages, and don't make it easy for them to see what you're doing pre-snap.  Anything you do, you cannot show early.  They're so good at going where you aren't, it makes them look better than they actually are.  Don't get it twisted, they're damn good.   They have a ton of faith in their kids, and using a baseball analogy, they'll play small ball with you waiting for you to make a mistake out over the plate.  Go ahead hang a curveball.  Go ahead, put a fastball out over the plate.  They're willing to let a few pitches go by until they get the pitch they want.  Just don't make a mistake.  If you do, most likely it's going to end up in the seats.