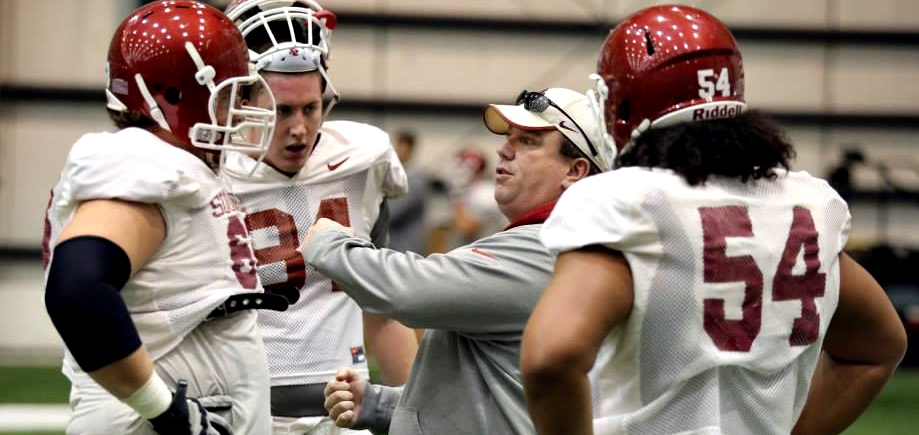 Sugar Bowl Thoughts #4 – Offensive Line Shuffle
Posted on: December 30, 2013
Image from Soonersports.com
A number of media outlets have reported that Oklahoma might be moving some people around on the offensive line in order to deal with the loss of Tyrus Thompson and Adam Shead. These reports are supported by some things we heard last week. While this is all pure speculation on my part, if we were to move the guys around, here's how I think we'd do it.  I'd start off by moving Daryl Williams over to the left side tackle spot.  He's played a ton for us and played very well, so amongst healthy tackles, I think that Daryl is probably the best bet there.  I also think he's the most athletic guy you have available to handle playing on the left side.  If you think back to last year, before camp broke, word on the street was that Daryl would be playing on the left and Lane Johnson would be playing on the right, so the concept isn't a foreign one.  Also the difference between left and right isn't that much.
Adam Shead was your starter at left guard before he got hurt, since then Bronson Irwin moved over from the right to the left and Nila Kasitati came in at right guard.  Having Bronson on the left payed big dividends since Derek Farniok was in his first start in Stillwater, and having Nila on the right sandwiched between Daryl and Gabe definitely helped if he had any questions.  But back to the left guard spot, I think we can put Dionte Savage there.  From what we gathered during fall camp, and one of the reasons you want to add OLinemen at semester instead of in the fall, is that both Dionte, and Josiah St. John were having a hard time picking up the offense.  With the additional time that the bowl practices have lent, I think that a shuffle may indeed be in order.
By getting Dionte ready, you can slide Bronson out to the right tackle spot, and as you break it down, it really makes more sense than you might think.  Move Daryl to left, it's not that different.  Dionte's played left guard all year, so it's not a move for him.  Ikard at Center, Nila at Right Guard where he's played all year, and really the only moves you actually make is Daryl to left tackle from right, and Bronson, who's a fifth year senior, sliding out to play the right tackle spot.  All of this hinges of course on whether or not Savage is ready to take over that left guard spot.  If he is, it could give us a lot more horsepower inside and then it comes down to who your best five are.
Even though I thought Derek Farniok showed promise against Oklahoma State, Alabama may present some match-up problems that he may not be ready for. There's nothing wrong with that. As I've said over and over, OLinemen often take time to develop.  By going with Daryl, Dionte, Gabe, Nila and Bronson, that gives you a veteran edge presence on both sides.  If Dionte is indeed ready, man that would help us a ton with getting movement in the middle, something that is a necessity on the dive play if we're going to give them a steady diet of the zone read.  You can cover Bronson up with Aaron Ripkowski at the tight end spot and the more you look at it, the more it actually makes sense.
The more the smoke clears, you can tell that Bob and Mike are pulling out all the stops for this game.  Possible o-line movement, Mike cooking up stuff on the defensive side, coupling all that with the general sense you get about how guys are approaching this game, and you can't help but be optimistic.
In years past, we've lost some games we probably shouldn't have and played pretty uninspired at times, but this doesn't feel that way.  Our guys are going to be ready. And if our guys come out with razor sharp execution against a possibly uninspired Bama team, is the difference between the two all that much?