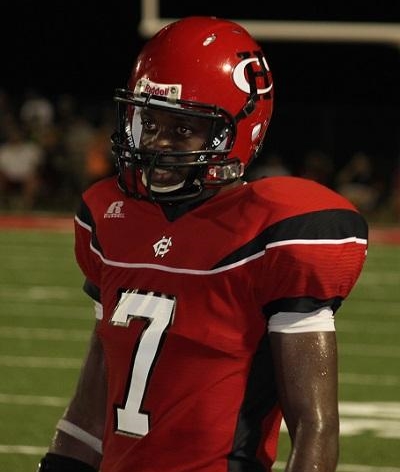 "Stealing" Recruits from Other States
Posted on: December 31, 2013
Image from Scout.com
Often in talking to people in the football community or friends who are coaches I come across random notes about recruits. Some are Oklahoma recruits and some are recruits from other schools. Recently one of those comments related to Oklahoma CB commit, Tito Windham and it got me thinking.
I had a coach down in Mississippi tell me "Oklahoma got a steal" with the commitment of Tito Windham. He told me that "Oklahoma came into the state of Mississippi and literally stole the best DB in the entire state!" As we told you a while back, Coach Mike Stoops only watched three plays of Tito Windham's film before he offered him.
Earlier this week we talked about Dwayne Orso's size. He is, as I noted, a huge kid standing at least 6'5 and he's definitely still growing in terms of physical strength and power and might not even be done growing vertically. But even with his current length and current strength he is already a very difficult match-up. As most of you know by now, after Oklahoma offered Dwayne Orso, schools like South Carolina and Mississippi State aggressively pursued Dwayne. But it appears, so far, that their efforts have failed. Again, Oklahoma may very well have stolen a great recruit right out of the heart of SEC territory.
Oklahoma got in on OLineman, Alex Dalton early as well. Like the OU coaches, we've liked Alex for quite some time and now he is a highly rated commit by most of the corporate evaluation sites. Alex is from Ohio, a rich recruiting state and Oklahoma managed to go in there and snatch him away from other regional schools.
The fact is there is so much talent in places like Louisiana, Alabama, Ohio, Mississippi, and Florida and one of the knocks on Oklahoma (and rightfully so) has been OU's unwillingness to be decisive and make early offers. But those early evaluations and that decisive action seems to have paid dividends this year in allowing Oklahoma to "steal" some really good prospects out of areas where it is normally very difficult.  If coaches are willing to put aside perception, put great effort into discovering and evaluating talent and then make the early offers, they can grab some of these talented players while schools like Ole Miss worry about competing with Alabama and LSU for a "4-star" kid.
The talent is so deep in some of those areas that it is often very difficult for even the best talent evaluators to distinguish between players. In other words, the difference in how those kids play on the next level is, in large part, about mental and physical development and of course how they fit into a particular scheme or identity. I hope Oklahoma takes an even more aggressive evaluation and offer approach in 2015. Places like Louisiana and Ohio are talent-rich states that only have one major state football program. We have to be able to grab a recruit or two out of these kinds of states. Especially when a state like Louisiana is so close in proximity to Oklahoma.
If OU can consistently get at least 5+ players from Oklahoma, 2-3 players from California, 2-3 players from SEC country, 2-3 players from Florida and 1-2 players from the Midwest (Ohio) that can (counting conservatively) perhaps fill over half our class each year. And that can help us develop in-roads in states with deep talent pools and enhance our ability to better recruit those areas moving forward.