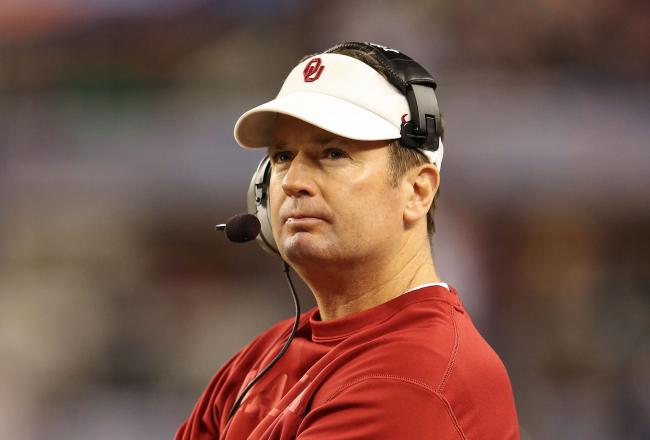 We're Off And Running With The "Bob Stoops Has Interest In The NFL" Rumors
Posted on: December 30, 2013
Image from USA Today
UPDATE: Even prior to Thursday night's Sugar Bowl game had ended, this report surfaced that Stoops is being "connected" to the Cleveland Browns job. Very little of which makes any sense, especially coming of the huge win over Alabama, that Stoops would voluntarily walk into that nightmare of a franchise. But things like logic aren't going to stop people from reporting this stuff, thus we're forced to make you aware of its existence.
Well, that didn't take long.
It's that time of year again when Bob Stoops' agent, the Neil Cornrich, starts to spread the rumor that his client and long-time Oklahoma head football coach might have a wandering eye. Things officially kicked off Monday afternoon when Ian Rappaport of NFL.com told Rich Eisen of the NFL Network that Stoops "has expressed some interest in joining the NFL."
I'm not here to tell you that Rappaport is off-base with his report or that his information is wrong, he's a very credible reporter with legitimate sources. And I'm obviously not Stoops (or Cornrich), so I can't definitively tell you this "interest" he may have is just another commonly used ploy on the part of Cornrich to secure his client a pay raise.
If we're going based off history, there is very little to see here and virtually no reason to believe that (1) Stoops actually has any real interest of being an NFL head coach or (2) that OU fans need to sweat this report and the idea of him leaving Norman. He's never truly, or at least publicly, expressed any interest in coaching in the NFL and whenever asked about the possibility has always been very complimentary of his current situation.
Now, to be fair, is it completely inconceivable that Stoops could leave for the NFL? Of course not.
In the world we live in today, where ungodly amounts of money are routinely thrown at both coaches and players, anything is possible.
That said, at this point there appears to be very little here in terms of substance. So, at least for now, you can file this away in the "been there, done that" drawer and carry on about your day.
Of course should anything change or there is some confirmation of this supposed "interest", we'll be sure to bring you the latest when/if that happens.