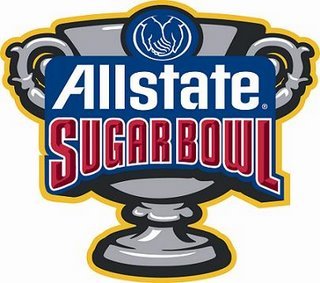 Sugar Bowl Thoughts #1
Posted on: December 28, 2013
In the coming days I plan on getting some abbreviated version of Trench Warfare up on the Crimson Tide.  I re-watched the Bama-Texas A&M game to see how they may play us.  While we don't have a Johnny Manziel or Mike Evans by any stretch of the imagination, I wanted to see how they would line up defensively against all of the open sets that A&M runs at you.
We quite often run out of the 10 personnel packages(one back/zero tight ends), and hit you with the three-to-four wide receiver sets much like the Aggies,  although we have done that a lot less this year.  Against A&M, Bama only put five-to-six defenders inside the box until the Aggies got down inside the 10-yard line.  At which point they would typically run some six and seven man fronts.  They don't blitz you a whole lot, rather they just line up and trust that they're going to beat you man for man.  Occasionally they will blitz, but it's not a Mike Stoops style defense that has people coming at you from a lot of different angles.
With the fronts they put out there against you, it's like they're daring you to run the ball at them.  A&M could have run at them, but they chose not to.  Outside of Johnny Football's 14 run around and make something happen plays, A&M only ran 18 other times in the game.  Part of that, I believe, was due to the fact that A&M knew it was going to have to score to keep up with Bama.
And while Bama's defense is really salty, their offense is also sneaky good.
Offensively, they're experts at match-ups.  They're very opportunistic and they'll run or pass most of the time based on what the defense gives them.  Their checks are very subtle, so it's not like you're going to see A.J. McCarron up there yelling out all kinds of crazy calls and hand signals.  It's so natural, that it just lends credence to the image of their dominance.  There are a few plays I hope to outline in future posts to help show you what I mean.
While they don't need you to make mistakes in alignment for them to be successful, like a great boxer, they can make a living off of their jab just waiting for that opportunity to land a big uppercut.  When you give them that opening, it's rare that they miss.  They're experts at exploiting weaknesses in how you line up against them.  The difference for them though is that McCarron checks at the line, whereas our offense this year (and in years past) looks to the sideline for calls.  By letting McCarron do it, it really makes it less obvious and it gives you an added dash of deception.  Mind you they do not need deception to be successful, but what it does is make their already great athletes lethal.
While Alabama has superior athletes to most every team in the nation, their coaches really understand how to put those athletes in the best position to allow them to use their natural abilities to the fullest.  They look faster than everyone else because they can get out and run where there isn't any traffic.  They dial it down and run with a tight end most of the time, while a three-WR set is probably the most spread you're going to see from them.  Still, they know how to exploit the match-ups and get you in those big defensive sets.
While they'll take some shots at you and can grind you down, they'll lull you to sleep, make you bring an extra defender into the box and then hit you for a big play down field in the pass game.  While they're the anti-Baylor in how they formation you, it's essentially the same principle.  Baylor's going to run, run, run and make you stop that until you have to commit so many people to stopping it, then there's no one home to give help outside on Christion Jones and Amari Cooper.  You may well indeed stop it a time or two, but they're banking on you making a mistake in coverage, missing a tackle, or lining up wrong.
Make no mistake about it, this will be the absolute toughest match-up we've had all year long defensively simply because of how intelligently they attack a defense.