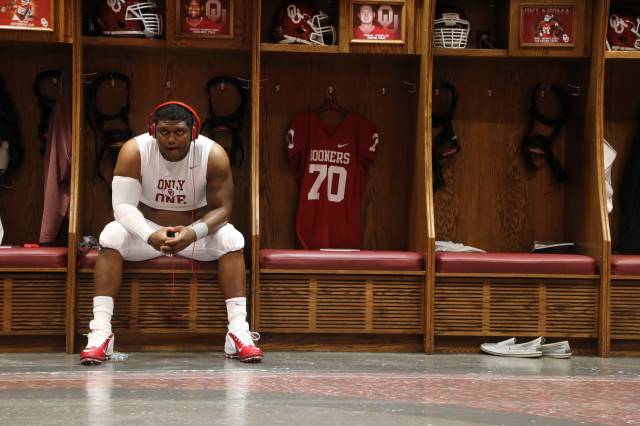 Winning The Individual Battles Key To Winning The War
Posted on: January 2, 2014
Image from Sooner Sports
If Oklahoma is going to win this Sugar Bowl game Thursday night against Alabama, it goes without saying they are going to have to win a number of individual battles. I'll grant you that's a 'captain obvious' type of statement, but that doesn't make it any less true of a true statement.
And yeah, sure, we could sit here and feature guys like A.J. McCarron, T.J. Yeldon, Amari Cooper, C.J. Mosley, and countless others, but why bother wasting your time telling you things you already know. You don't need this site, or any others, to tell you those are really good players and that limiting them in this game will be key to OU's chances for an upset.
Instead, we've chosen to focus on some of the other individual match-ups that may not be receiving the same level of attention but could easily play just as important a role on Thursday night.
It should come as little surprise to most here that several of these 'versus' match-ups will feature prominently along both sides of the line of scrimmage. It's a popular opinion that if the Sooners are going to have any chance in this game against Alabama, they are going to have win more often than not at the point of attack. I don't necessarily think OU has to dominate, mainly because I know that they're capable of actually accomplishing that against this Alabama team, but they will have to win more than their share of battles.
Jordan Wade vs. Chad Lindsay
Once again it appears the pressure to disrupt things up the middle for this OU defense will fall squarely on Wade's shoulders. The only healthy guy behind him, Torrea Peterson, is expected to be unavailable in this game for reasons Bob Stoops (or any other OU coach) has refused to go into. Thus, much like the Oklahoma State game, it's not unrealistic to expect Wade to once again play every snap at nose tackle.
If there is a plus here for the Sooners, it's that Wade won't be facing an All-American and Rimington Trophy winner like Alabama had last year in Barrett Jones. Which is not meant to disrespect Lindsay, Bama's current starting center and a very capable player in his own right, but rather to simply point out this is a match-up Wade can (and needs to) win.
If Wade can disrupt things up front, even drawing double teams, it will help greatly to limit the rushing opportunities for Yeldon, Kenyan Drake, and others.
Gabe Ikard vs. Brandon Ivory
The other respective match-up in the middle and one that could be just as important if Oklahoma is to have success running the ball, something they'll obviously need to have if they hope to win this game. Not unlike the Wade/Lindsay battle, this is another where Alabama not having a player like a Marcell Dareus or Terrence Cody helps OU's chances of winning this match-up.
No one starting for Alabama lacks for talent, but Ivory is not the elite difference maker those other two guys were. So with OU lining up an All-American of their own in Ikard, this is a battle the Sooners need to win.
Whether it's Brennan Clay, Roy Finch, Trevor Knight, or whoever running the ball for OU, they're going to need lanes with which to run through and the ability to gash Bama up the middle would be huge for this offense.
Charles Tapper vs. Cyrus Kouandjio
Mike Stoops will move his defensive ends around throughout the game, but when Tapper is lined up across from Kouandjio it will be a true test of just how far the incredibly talented OU sophomore has progressed this year.
Kouandjio is a consensus All-American and could be a Top 10 NFL draft pick should he choose to come out a year early. While Tapper has all the talent in the world and though still raw as a football player, has more than enough athleticism to give Kouandjio problems.
And Tapper will need to do just that because getting pressure on McCarron and making him uncomfortable in the pocket are of utmost important in this game. Granted, it won't solely be on Tapper to do so but he'll need to be one of the primary sources of said pressure or it could prove to be a long night for OU.
If McCarron is allowed to stand in the pocket and given the time to go through multiple reads, it makes the job of this OU secondary all the more difficult. While as experienced as just about any quarterback in the country, McCarron is not unlike most who play the position in their…shall we say lack of excitement in getting hit. If he's repeatedly picking himself up off the ground, even if they're not sacks, that is a very good thing for this OU defense.
Sterling Shepard vs. Jarrick Williams
I'll confess this one is more of a gut feel than anything. Oklahoma has the talent at wide receiver in Shepard and Jalen Saunders to win the battle against Alabama's corners. The strength of this Crimson Tide defense is their ability to avoid giving up the big plays, tackling well, and limiting an opponent's opportunities for big yards after the catch.
Which is where Shepard and Saunders come in.
I chose to single out Shepard because he'll most likely be matched up against Williams, Bama's nickel back, and because of his ability out of the slot to find AND exploit those ever so slight openings in the middle of an opposing defense.
I think Shepard is a guy that can give this Alabama defense problems and if they have to start accounting for and/or doubling him, then it opens up things for everyone else on this OU offense.
–
Those are several of the match-ups we'll be keeping a close eye on, but we want to hear some of those you'll be watching for in this Sugar Bowl game. So hit us up in the comments with some of your key match-ups and how you think OU will fare.