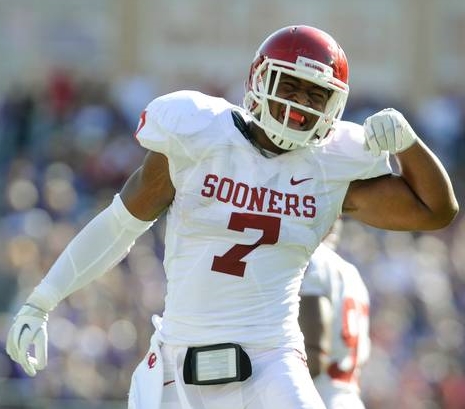 OU Football 2013: Overcoming Adversity
Posted on: December 29, 2013
Image from DallasNews.com (Photographer: Matt Strasen)
If Thursday night's game against Alabama does not turn out in Oklahoma's favor, or if it gets as ugly for the Sooners as some are predicting, it will be impossible not to be disappointed to end this season on a down note. However, if you are able to take a step back and look at the bigger picture of what this team and coaching staff have been able to accomplish it has been rather remarkable.
Heading into this season, almost everyone who knew anything about OU Football would have told you there were three individuals the Sooners could absolutely not afford to lose. Those players were Aaron Colvin, Corey Nelson, and Jordan Phillips.
Welp, OU obviously lost two of those three players for the year — and relatively early in the season — while Colvin missed two games and played hurt for at least the latter part of the season.
Coming into the year it would have been unfathomable to consider the loss/limitation of all three of those players and the idea that Oklahoma could field a Top 15 defense. And yet that's exactly what happened.
But those are just three guys, albeit three incredibly important guys, but still just three guys. Oklahoma has also lost and/or played without at some point this season the following: Blake Bell, Jordan Evans, Tyler Evans, Keith Ford, Trevor Knight, Trey Millard, Torrea Peterson, Quincy Russell, Adam Shead, Sterling Shepard, Kendal Thompson, and Tyrus Thompson. And those are just the injuries. You could also include Damien Williams getting kicked off the team and the game against K-State Lacoltan Bester missed due to a suspension.
Seriously, consider that list and the three aforementioned players before them. That isn't a list of guys who occasionally contribute. It's a list that includes your three most important players on defense, eleven starters (if you count T.Evans), your top three quarterbacks, arguably your most talented player (Millard) and running back (Williams), your left tackle and guard, and a guy (Russell) everyone assumed coming into the season would have to play a major role in the middle of this OU defense.
All of which is to say, regardless of what happens Thursday night, both the coaches and players deserve a great deal of credit for overcoming all of it, putting up a 10-2 season, and managing yet another BCS bowl appearance.
Even if you didn't play the game, if you follow it even casually you know that no successful team/program can afford to use injuries as an excuse. So when you see this OU Football team maintain that 'next man up' mentality despite all of the personnel losses previously discussed, you simply have to respect the dedication and determination of all those involved.
I'm certainly not going to sit here and try to convince you that if OU loses to Alabama in embarrassing fashion Thursday night I won't be incredibly disappointed. That'd be a lie. However, what I will tell you is that after some time passes I will look back on this season with some perspective to appreciate just how much this program has overcome and accomplished this season.