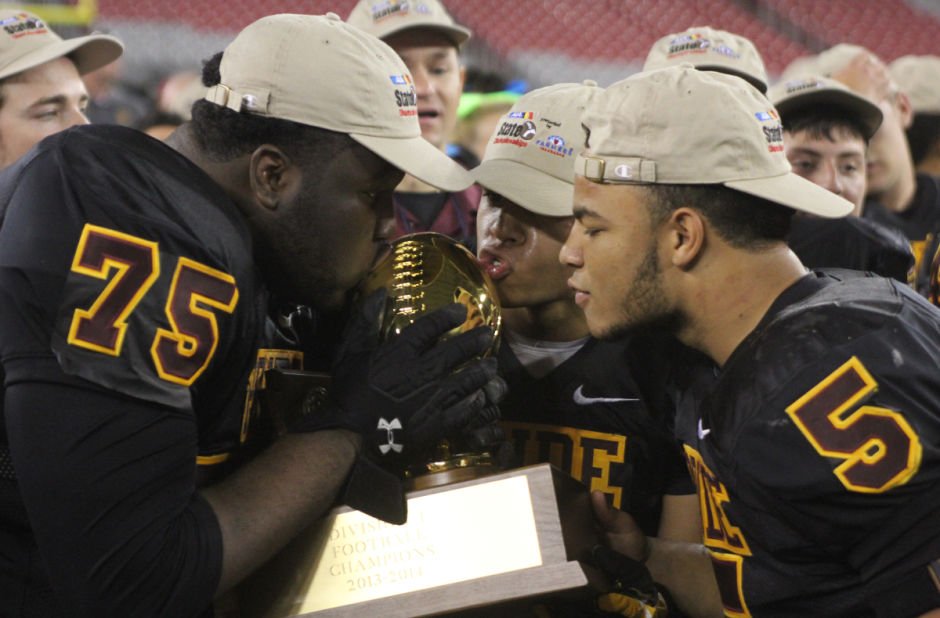 Natrell Curtis Breakdown
Posted on: December 19, 2013
Image from eastvalleytribune.com (Photographer: Tim Hacker)
BREAKDOWN
Natrell has the prototypical guard frame at 6'3″ 325.  He's got all the athleticism you would want or need. There were plays on his film that made me ooh and ahh, but there were also plays that were average.  Natrell can be as good as Natrell wants to be.  He played both ways in high school, and to that point when a guy isn't in the best of shape, he's going to conserve energy.  I think that Natrell isn't the best finisher in the world probably because he's getting tired a lot.  At the initial point of contact he really hits you, but I'd like to see more consistency on his leg drive. He seems like a really nice kid, and his personality strikes me as a happy go lucky type.  That's fine, but as an offensive lineman, you have to find your light switch.  You have to be able to turn it on and turn it off.  Let's face it, if all of us big guys ran around pissed off like a lot of little guys do, there would be a lot more of us in jail.  When we get pissed off, people get scared.  So you have a guy his whole life that Mom's telling him to play nice, and you don't know your own strength etc., and we expect him to be nasty at the drop of the hat.  You hear the little guys all the time talking about how "if I was as big as you…".
Anyway, I think Natrell is a very positive person and a good kid, but I don't think he's learned as a big man how to be as nasty as he could be, because it's so unnatural to him.  Don't get me wrong, I like him as a player, and I see a guy who has every physical tool you want.  What I don't see is that edge, and that consistent nasty that guys like Alex Dalton and Jonathan Alvarez play with ALL THE TIME.  Natrell, is quick,big, fast, strong and all of the things you want him to be, he just needs to flip the switch.  The only way to do that is to learn how to play with great effort all the time in practice and conditioning.  Get well acquainted with the pain and suffering of offseason workouts, so that when you start hurting in the game, you're no stranger to it.  You become able to embrace it and even ignore it.  Natrell is a boom or bust type guy to me.  If he gets the right coaching in college, he'll be an All American.  If he gets someone who won't wear him out and make him become everything he should be, you won't hear much from him.
It is for that reason that Coach Bedenbaugh and Natrell seem like a great fit. As K mentioned in his recruiting update on Natrell, Oklahoma has a stable family-type environment where players can grow and become the best version of themselves without a lot of outside distractions, coaching change issues, etc. Coach Bedenbaugh will bring the best out of Natrell. And the best out of Natrell is nothing short of an elite interior lineman. He is NFL talent if he wants to be.