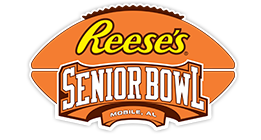 Multiple Sooners Accept All-Star Game Invites
Posted on: December 18, 2013
Image from seniorbowl.com
It's that time of year where the college football postseason all-star games start to send out invitations and compile their respective rosters.  Monday afternoon it was announced that Oklahoma cornerback Aaron Colvin and wide receiver had accepted invites to take part in this year's Reese's Senior Bowl.
Via the game's official website: "The Senior Bowl is the nation's most unique football game and football's premier senior showcase event. It annually features the country's best senior collegiate football players and top NFL draft prospects on teams representing the North and South that are coached by the entire coaching staffs of two National Football League teams."
The 2014 Senior Bowl will take place on Saturday, January 25th, 2014 and will be held in Mobile, Alabama. The game (and practices) will air on the NFL Network.
Then on Tuesday, the East-West Shrine Game announced that OU offensive lineman Gabe Ikard and running back Brennan Clay had accepted their invitation as well.
Via the game's official website: "The East-West Shrine Game® is the longest running college all-star game in the country. A staple in college football since 1925, the game has consistently proven to be a launch pad for players seeking professional careers in the NFL. More than 100 players from the 88th East-West Shrine Game signed with professional football teams in 2013. On average, more than 275 East-West Shrine Game alumni are on NFL rosters each year."
The 2014 East-West Shrine Game will take place on Saturday, January 18th, 2014 and will be held in St. Petersburg, Florida. This game will also be shown on the NFL Network.
So far Clay, Colvin, Ikard, and Saunders are the only OU seniors to accept invites, but one would hope there could still possibly be invites coming for guys like Roy Finch, Gabe Lynn, Jaz Reynolds, among others.