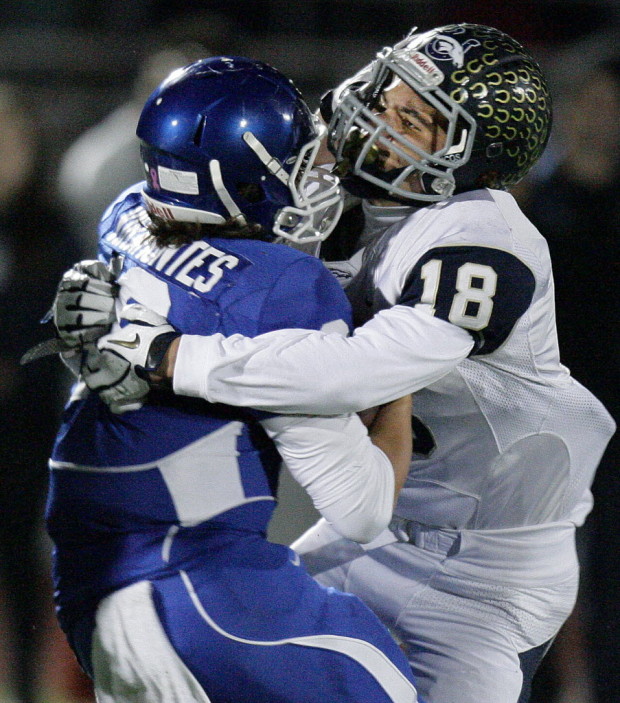 Former NFL Scout Takes the Blind Tape Test | Linebackers (Part 2)
Posted on: December 24, 2013
Image from The Press Enterprise (PE.com) (Photographer: Terry Pierson)
In this edition of the blind tape test we asked Chris Trulove, former NFL scout and coordinator of pro scouting for the Denver Broncos to take a look at LBs: Jonathan Thomas (OU offer), Jonathan Willis (Oregon State commit out of Tulsa Washington) and Curtis Bolton (OU commit).
In part 1 we gave you Chris' scouting report and evaluation grade for Jonathan Thomas and Jonathan Willis. In this second part we will give you Chris' report on Curtis Bolton. We wanted to save the results of this blind tape test for a separate post because Curtis received the highest rating given to date.
What is the Blind Tape Test? The Blind Tape Test (like the blind taste test that was popular in the 80s with Coke and Pepsi) is where we give a former player or scout film to watch on certain high school recruits that Oklahoma may be interested in and we ask them to give us an evaluation of those players. We do not give the evaluator any information about the players in terms of their offers or recruiting background or anything of the sort. In fact we don't even tell them what state they are from or what school they play for. They know little more than the size of the player. It's all about the tape and what they see. We don't offer our thoughts on the player prior to them viewing the tape. Our goal with these are to continue giving our readers the opinion of football guys on football players.
Previous Results: Here we're Mossis Madu's results for running backs - http://thefootballbrainiacs.com/?p=1773. Here are the previous results for Chris' evaluation of OLinemen - http://thefootballbrainiacs.com/?p=2008. And the results from Chris' evaluation of Willis and Thomas - http://thefootballbrainiacs.com/?p=2186
Summary of Previous Grades:
Nathan Starks – 3.7
Joe Mixon – 3.8
Michael Warren – 3.9
Jonathan Alvarez – 3.3
Alex Dalton – 3.7
Demetrius Knox – 3.8
Jordan Sims – 3.9
Jonathan Thomas – 3.3
Jonathan Willis – 3.5
As you can see, in the short time we've been offering this feature no one has cracked the 4.0 mark. Curtis Bolton is the first. Here is Chris Trulove's scouting report on Oklahoma LB commit Curtis Bolton:
Curtis Bolton – Smart and nasty.  Bolton has good size, very good athletic ability, great instincts, and great tenacity.  Has very good quickness at the snap with a fantastic swim move to either direction.  Very disruptive shooting gaps and wreaking havoc in the backfield vs run or pass.  He finds the ball quickly and is a nasty face up tackler with strength.  He has excellent chase effort from behind and downfield.  He plays like he loves the game and LOVES DEFENSE.  He is smart picking up backs out of the backfield and playing screens.  Has mostly played on the LOS but has shown good read and react ability when in certain "stacked" alignments.  Once he diagnoses, he attacks and really brings the wood.  He has good speed and he's agile in space as well, though his greatest assets are his high level of instincts and effort.  He has good upper body strength to separate and shed blockers at the point of attack and this will only improve as he gets bigger in college.  While he will be a good pass rusher at the next level, he will have the ability to be a lot more than a situational player.  He has the tools to play early and often.   GRADE: 4.2