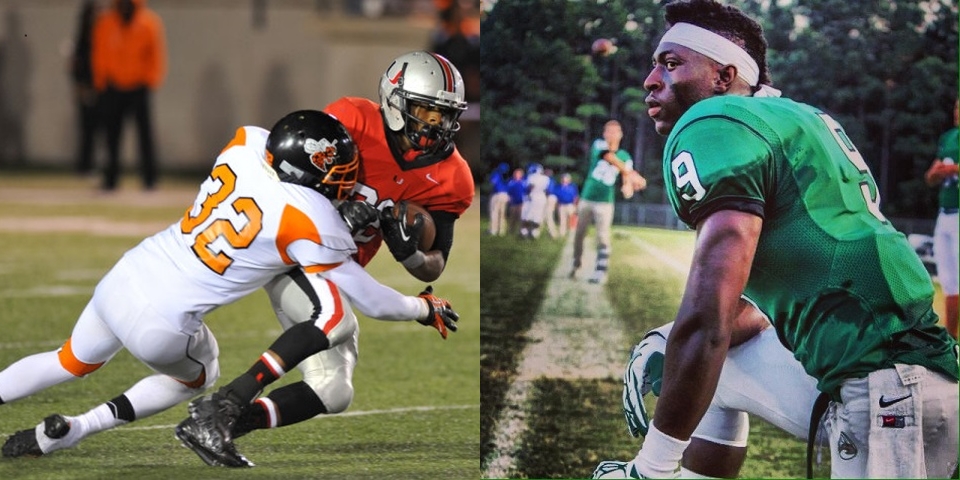 Former NFL Scout Takes the Blind Tape Test | Linebackers (Part 1)
Posted on: December 23, 2013
Image of Jonathan Willis from the Tulsa World (Photographer: Brett Rojo), Image of Jonathan Thomas from twitter.com/jonny_suave1
In our first Blind Tape Test we asked former OU and NFL RB Mossis Madu to look at Michael Warren, Joe Mixon and Nathan Starks. Here were the results: http://thefootballbrainiacs.com/?p=1773
In our last Blind Tape Test we asked Chris Trulove, former NFL scout and coordinator of pro scouting for the Denver Broncos to take a look at interior offensive linemen Demetrius Knox, Jonathan Alvarez, Alex Dalton and Jordan Sims. Here were the results: http://thefootballbrainiacs.com/?p=2008
The Blind Tape Test (like the blind taste test that was popular in the 80s with Coke and Pepsi) is where we give a former player or scout film to watch on certain high school recruits that Oklahoma may be interested in and we ask them to give us an evaluation of those players. We do not give the evaluator any information about the players in terms of their offers or recruiting background or anything of the sort. In fact we don't even tell them what state they are from or what school they play for. They know little more than the size of the player. It's all about the tape and what they see. We don't offer our thoughts on the player prior to them viewing the tape. Our goal with these are to continue giving our readers the opinion of football guys on football players.
In our third edition of the Blind Tape test we asked Chris Trulove, former NFL scout and coordinator of pro scouting for the Denver Broncos to take a look at the following linebackers:  OU offer Jonathan Thomas, OU commit Curtin Bolton and Oregon State commit and Tulsa Washington LB, Jonathan Willis. We'll save the Curtis Bolton results for tomorrow. He received the highest grade Trulove has given so far so we felt it deserved it's own post. For now, here were the results of Chris Trulove's evaluations on Thomas and Willis:
Jonathan Thomas – Good looking athlete with nice length and agility. He is an excitable player but his bark is a little bigger than his bite. He has played a lot of stand up LB and makes a lot of plays in space. He has good play recognition and good speed to the ball but he often gets in a trail position forcing him to drag tackle. He is rangy and covers a lot of ground but will need to improve his angles and face up tackling. He can stack & shed blocks but needs to improve his leverage at the point of attack to be an effective edge setter vs the run. Has a good swim move and good speed on the edge as a pass rusher but is not always explosive to the QB. Because he is a very good athlete, he will have the versatility to play more than one LB spot but like most kids making the jump to a power conference, he will need time to refine his angles, techniques, and down in and down out execution. GRADE: 3.3
Jonathan Willis – Lean, active, and relentless player.  Instinctive pass rusher with eyes for the ball.  Some guys get caught up trying to beat a blocker and lose leverage and ground to the ball carrier.  Not this guy.  He spends little time worrying about the block and instinctively gets off and to the ball.  Often plays in a four point stance on the LOS, and has great takeoff out of it. Gains a lot of ground with long strides and has good speed and great pursuit effort.  Very slippery and not afraid to give up his body to make the play. Plays with abandon.   Has a good long frame with room to add bulk.  Flashed good leverage to stand up blockers and shed.  Good wrap up tackler that is aggressive.  Has played more with his hand down than from a stacked position but has shown an ability to drop, read, and react.  More of a straight line athlete than explosive lateral player so he will need to play in a scheme allowing him to rush outside.  May need a little time to develop his true LB play in space but until then can be a situational sub package pass rusher. GRADE: 3.5
We will have Curtis Bolton's results up in the next day or two.