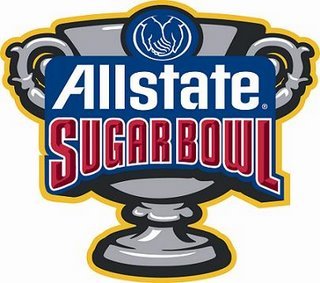 Addressing This Sugar Bowl Win-Win Narrative For The Sooners
Posted on: December 26, 2013
Almost as soon as the official bowl pairings were announced and we learned that Oklahoma would be facing Alabama in the Sugar Bowl, many in the local media began to describe the game as a 'win-win' for the Sooners.
The logic being that, on paper, this Oklahoma team was woefully overmatched against a Crimson Tide team that many believe is still the best in the country. So if OU were somehow able to shock the world and pull off the upset, it would be a monumental springboard for the program. On the other hand, if OU were to lose the game it would mean very little because, in the minds of the media, everyone is expecting them to lose anyway.
Now I don't know about you, but I'm not, nor will I ever be, a moral victory guy. So the latter of those two 'win-win' concepts – OU didn't win but kept it close enough without getting embarrassed – doesn't really do anything for me. A loss is always going to disappoint, whether it's by one point or five touchdowns. Granted, there are different levels of disappointment but it's disappointment nonetheless.
Admittedly, this 'win-win' concept is an unfamiliar scenario for an Oklahoma football program and fan base that has become more accustomed to the much less appealing 'lose-lose' scenarios.
Win and nobody cares because you're supposed to win, but lose and you're the subject of embarrassment and ridicule.
That's familiar. This 'win-win' concept isn't and, quite frankly, given its connotations – that you're just fortunate enough to be there – isn't one, as an OU fan, I want to become familiar.
However, back to the crux of the matter at hand. The problem with this whole 'win-win' narrative many have been pushing is that it's incomplete.
There are more than just the two options listed above. There is a third and it's an unpleasant one from the OU perspective.
A game in which you are as overmatched as some believe you to be and a game that potentially turns into an embarrassing blowout on national television.
Unfortunately, this is also a familiar feeling for Oklahoma who suffered that very same disastrous fate just last year against Texas A&M in the Cotton Bowl.
In fact, many believe it played a significant role in Bob Stoops finally acknowledging the deficiencies in his coaching staff and the noticeable drop off in the talent level on the Oklahoma roster.
It doesn't matter who you are or where you program may be, losses like the one Oklahoma suffered to the Aggies are never a good thing.  So to potentially have another for a second consecutive year, on an even bigger stage, would only add to the embarrassment.
I'm not saying it's going to happen and I'm sure as hell not saying I want it to happen, but what I am saying is it's a possibility and one that has to be avoided at all costs.
Perception is a tricky thing and it's something that, fair or unfair, can be easy to establish, but significantly more difficult to change. The perception of this Oklahoma program were it to suffer another embarrassing bowl game loss, even with all the injuries and even to an Alabama team many still consider the best in the country, should be (and I'm quite confident is) a road Bob Stoops and company do not want to venture down.